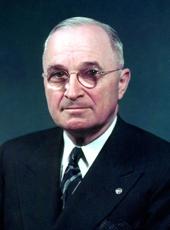 Statement by the President Upon Designating John R. Steelman Acting Chairman of the National Security Resources Board
I have asked the Assistant to the President, John R. Steelman, to assume responsibility as Acting Chairman of the National Security Resources Board. He is to undertake the important job of continuing to fit the work of the Board and the activities of its staff into the broader framework of total presidential responsibilities. When farther steps in this direction have been accomplished, it is my intention to designate a successor to relieve Dr. Steelman so that he may again give full time to his regular duties.
The National Security Act of 1947 established the National Security Resources Board as an agency, "to advise the President concerning the coordination of military, industrial, and civilian mobilization." Currently almost one-half of the national budget is directly devoted to national defense and international programs, and the work of nearly all the major units of our Government bears an intimate relation to mobilization problems. Under these conditions, the Board must not only assume the leadership among the Government agencies concerned with mobilization issues, but must also work closely with other presidential staff advisers.
In carrying out this special assignment, Dr. Steelman will work in close cooperation with the departments and agencies and with the Chairman of the National Security Council, the Chairman of the Council of Economic Advisers, and the Director of the Bureau of the Budget.
Dr. Steelman's experience as former Director of the United States Conciliation Service, as Director of Economic Stabilization, and as Director of War Mobilization and Reconversion has contributed to his knowledge of mobilization problems and of the role which the Federal Government must play in cooperation with business, labor, civic, and State and local organizational units in such undertakings. He has attended meetings of the Cabinet for the past 3 years and has an intimate knowledge of the governmental policies and activities which will contribute to his performance of this important job.
I am anxious to have close coordination among all departments and agencies concerned with our resources and mobilization issues. Dr. Steelman will have my full backing and that of the Cabinet and other agency heads in fulfilling this difficult task.
Harry S Truman, Statement by the President Upon Designating John R. Steelman Acting Chairman of the National Security Resources Board Online by Gerhard Peters and John T. Woolley, The American Presidency Project https://www.presidency.ucsb.edu/node/234136