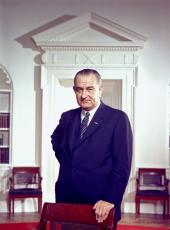 Statement by the President Upon Approving Civil Rights Regulations Covering the Programs of Federal Departments and Agencies.
THIS NATION'S commitment to the principle of equality of treatment and opportunity for all Americans will be well served by the new regulations assuring that Federal programs are available to all citizens without regard to their race, color, or national origin. All key Federal officials have been instructed to cooperate with State and local governments and with private organizations and individuals participating in Federal programs to ensure that there is complete understanding of the regulations and compliance with the congressional mandate. Just and reasonable procedures have been prescribed to insure that disputes or failure to comply with the principle of nondiscrimination in administering Federal programs will be promptly and justly decided.
The broad and encouraging compliance with the Public Accommodations Title of the Civil Rights Act has demonstrated the overwhelming desire of the people of this Nation to accept and to comply with the law of the land. I am confident that the provisions of the Civil Rights Act to be implemented by these regulations will be received in the same spirit of acceptance and cooperation.
Note: The statement was part of a White House release which noted that the President had approved the regulations on December 3 and that similar regulations covering other agencies would be issued "in a few weeks." The regulations approved December 3 were those for the Departments of Interior, Agriculture, Labor, and Health, Education, and Welfare, together with those for the General Services Administration, Housing and Home Finance Agency, and the National Science Foundation. They are published in the Federal Register of December 4, 1964 (29 F.R. 16273).
Lyndon B. Johnson, Statement by the President Upon Approving Civil Rights Regulations Covering the Programs of Federal Departments and Agencies. Online by Gerhard Peters and John T. Woolley, The American Presidency Project https://www.presidency.ucsb.edu/node/241478