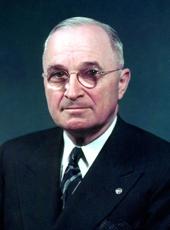 Statement by the President Upon Appointing Gordon R. Clapp as Chairman, Tennessee Valley Authority.
I AM TODAY naming Gordon R. Clapp as Chairman of the TVA, to succeed David E. Lilienthal. Mr. Clapp has been TVA's General Manager since October 1939, and prior to that time served as Director of Personnel. Mr. Clapp's term of service, subject to confirmation of the Senate, will be until May 1954.
I make this appointment of Mr. Clapp with a sense of great satisfaction, which I am sure all the millions of friends and supporters of TVA will share with me. His appointment and service mean a continuation of the superior performance in the public service that has characterized TVA in the past. It means that TVA will have at its head a man of wide experience and understanding of TVA's problems and opportunities, and one therefore uniquely qualified to provide sound leadership in the future.
The TVA is a great American accomplishment of which the whole nation is proud. Established by Congress in 1933 under the determined leadership of President Roosevelt and Senator Norris, it was at first the object of bitter opposition and widespread misrepresentation. But the TVA's record of accomplishment through the years, the non-political and efficient character of its management and the high caliber of its staff have changed opposition to support, until today in the Tennessee Valley and throughout the country the TVA receives almost unanimous approbation and support.
TVA has proved itself. It has proved itself in peace and in war. It is known throughout the world as a demonstration of democracy's capacity to raise the standard of living, to utilize natural resources wisely, and to stimulate and encourage the initiative and enterprise of individuals.
I want TVA to continue to be the object of our nation's justified pride. I believe most Americans feel as I do. And the clearest evidence of my desire to see TVA's successful policies and practices continued and strengthened is my appointment of Mr. Clapp to succeed Mr. Lilienthal. For, to those who have followed TVA closely, as I have, it is well known that to a large degree TVA's success has been due to Mr. Clapp's skill as an administrator, to his qualities of character and devotion to the public service, and to a vision and understanding that have so largely aided in the formulation of TVA policy. He has shown himself not only effective in eliciting cooperation but also to be a formidable and resourceful fighter when TVA was under unfair attack. All these qualities, and the advantage of his youth and indefatigable energies, will stand him in good stead in his new capacity as head of TVA. Chairman Clapp and his two fellow directors, Dr. Morgan and Senator Pope, have a great opportunity to carry TVA forward to even greater accomplishments.
Harry S. Truman, Statement by the President Upon Appointing Gordon R. Clapp as Chairman, Tennessee Valley Authority. Online by Gerhard Peters and John T. Woolley, The American Presidency Project https://www.presidency.ucsb.edu/node/232211