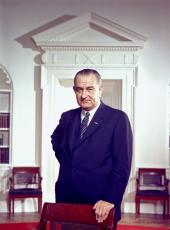 Statement by the President Upon Appointing a Committee To Review Foreign Aid Programs.
I HAVE appointed an interdepartmental committee to make an intensive review of our programs of foreign economic and military assistance and means of strengthening them. I have asked the committee to report its recommendations to me by January 15th. The committee is under instructions to approach the problem of foreign aid with fresh minds not bound by precedent or by existing procedures or arrangements. I have asked members of the committee to give serious study to the following approaches:
1. They should seek all possible ways to simplify procedures and to render the administration of foreign assistance as speedily and as effectively as possible.
2. They should consider steps to enlist in our foreign assistance efforts, to a much greater extent, the energy, initiative, and resources of private business, labor organizations, cooperatives, universities, cities and States and other non-Federal institutions.
3. They should examine ways of encouraging more self-help on the part of recipient countries.
4. They should consider means of persuading other developed countries to increase aid to underdeveloped countries, both bilaterally and through international machinery.
5. They should seek all possible means to achieve economies and efficiencies in the administration of our aid program and to reduce to a practical minimum the number of personnel employed in those programs at home and abroad.
6. They should give most serious consideration to the suggestions made by the Senate Foreign Relations Committee for the improvement of foreign assistance.
7. They should recommend the arrangements by which the Assistant Secretary of State for Inter-American Affairs will give policy direction to the Alliance for Progress.
My action in appointing this committee, far from reflecting any lack of conviction in the necessity for foreign assistance, demonstrates my strong determination that those programs be so administered as to yield the greatest benefit to our country and to the free world.
This Nation has now been engaged in peacetime programs of economic and military assistance for 16 years, since President Truman's decision in 1947 to aid Greece and Turkey. Over the years, these efforts have yielded enormous dividends to the United States and other free nations. In that period we have several times changed our methods of administering foreign assistance. This is only natural, for two reasons. First, history holds no precedent for such a large national undertaking as the U.S. foreign assistance program: its administrators have had few examples or experiences to guide them. Second, the conditions and the needs for such assistance are subject to rapid change. Since 1947 our European allies have achieved prosperity and many of them are now conducting substantial foreign assistance programs. Since the war, 48 countries have achieved independence, each with its own set of problems and needs. We have over the years altered earlier programs and instituted new ones. The Alliance for Progress is a major example of a new initiative to meet special needs. It is the mandate of this new committee to examine recent changes, to anticipate the needs and demands of the future and to recommend measures and methods that will assure the most efficient and most effective use of all our foreign assistance resources.
The committee will consist of the Under Secretary of State George W. Ball, the Administrator of the Agency for International Development David E. Bell, the Director of the Bureau of the Budget Kermit Gordon, the Assistant Secretary of Defense for International Security Affairs William P. Bundy, the Assistant Secretary for International Affairs John C. Bullitt, and the Special Assistant to the President Ralph Dungan. The Assistant Secretary of State for Inter-American Affairs Thomas C. Mann will serve as a member of the committee with respect to all matters affecting the Alliance for Progress. I have asked Under Secretary Ball to serve as Chairman.
Note: Oral reports were made to the President from time to time. See also Items 150 [7] and 227.
The statement was released at Austin, Tex.
Lyndon B. Johnson, Statement by the President Upon Appointing a Committee To Review Foreign Aid Programs. Online by Gerhard Peters and John T. Woolley, The American Presidency Project https://www.presidency.ucsb.edu/node/242132