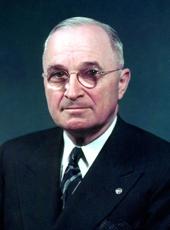 Statement by the President on the Election of Dwight D. Eisenhower as President of the United States
THE PEOPLE of the United States have elected Gen. Dwight D. Eisenhower as their President. In our democracy, this is the way we decide who shall govern us. I accept the decision as representing the will of the people, and I shall give my support to the Government they have selected. I ask all my fellow citizens to do the same.
The new administration and the new Congress will face extremely difficult problems, particularly in the field of foreign affairs. The proper solution of those problems may determine whether we shall have a third world war--and, indeed, whether we shall survive as a free and democratic Nation. Moreover, there is no quick and easy solution to these problems. They will require sacrifice and hard work on our part for years to come. We must support our Government in the measures that are necessary to protect our freedom and achieve peace in the world, even though the way be long and hard.
I stand ready to do all that lies within my power to facilitate the orderly transfer of the business of the executive branch of the Government to the new administration. I have already sent a message to General Eisenhower suggesting that he have a representative meet with the Director of the Bureau of the Budget, so that he will be fully informed as to the items in the budget. It will be necessary for me to send the budget to the Congress since, under the law, it must be transmitted by January 18th. Steps will be taken to cooperate with respect to other matters relating to the transition to a new administration where General Eisenhower wishes that to be done. I am inviting the General to meet with me here in the White House at an early date to discuss these problems, in order that it may be plain to the whole world that our people are united in the struggle for freedom and face.
I could not conclude this statement without expressing my admiration and gratitude to Governor Stevenson for the campaign which he conducted. He lived up to the finest traditions of our democracy. It is plain that, in him, we have a great new leader who will contribute much to our national life in the years ahead.
We shall have other elections in the future. There we can again present our views and our differences for the decision of the American people. In the meantime, it will be in the best interest of all of us to close ranks and work together for our mutual welfare as citizens of this great Republic.
Harry S. Truman, Statement by the President on the Election of Dwight D. Eisenhower as President of the United States Online by Gerhard Peters and John T. Woolley, The American Presidency Project https://www.presidency.ucsb.edu/node/231080