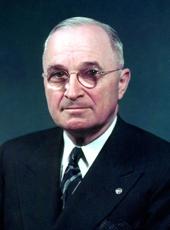 Statement by the President on the Coming Into Effect of the North Atlantic Treaty
With the deposit of instruments of ratification by Denmark, France, Italy, and Portugal, the North Atlantic Treaty today enters into effect. This is a momentous occasion not only for all the signatories of the treaty, but for all peoples who share our profound desire for stability and peaceful development.
By this treaty we are not only seeking to establish freedom from aggression and from the use of force in the North Atlantic community, but we are also actively striving to promote and preserve peace throughout the world. In these endeavors, we are acting within the framework of the United Nations Charter, which imposes on us all the most solemn obligations.
These obligations, which bind us to settle international disputes by peaceful means, to refrain from the threat or use of force against the territory or independence of any country, and to support the United Nations in any action it may take to preserve peace, are all clearly stated in the North Atlantic Treaty.
Today, as this treaty comes into effect, it seems particularly appropriate to rededicate ourselves to the carrying out of the great task we have set for ourselves--the preservation of stability and peace. No nation need fear the results of our cooperation toward this end. On the contrary, the more closely the nations of the Atlantic community can work together for peace, the better for all people everywhere.
Note: The North Atlantic Treaty was signed at Washington on April 4, 1949. Ratification was advised by the Senate on July 21 and the Treaty was ratified by the President on July 25. It entered into force on August 24, and is published in the U.S. Statutes at Large (63 Stat. 2241).
See Items 68, 75, 162, and 225.
Harry S Truman, Statement by the President on the Coming Into Effect of the North Atlantic Treaty Online by Gerhard Peters and John T. Woolley, The American Presidency Project https://www.presidency.ucsb.edu/node/229919