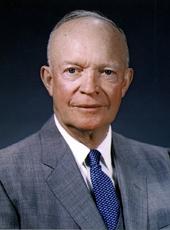 Statement by the President Reviewing the Government's Policies and Actions With Respect to the Development and Testing of Nuclear Weapons.
I HAVE CONCLUDED it to be in the public interest to place before you, the American people--and before the world--a full and explicit review of your Government's policies and actions with respect to the development and testing of nuclear weapons, as these affect our national defense, our efforts toward world disarmament, and our quest of a secure and just peace for all nations.
In this cause of world peace, one truth must never be lost from sight. It is this: the critical issue is not a matter of testing nuclear weapons--but of preventing their use in nuclear war. America has repeatedly stated its readiness, indeed its anxiety, to put all nuclear weapons permanently aside--to stop all tests of such weapons--to devote some of our huge expenditures for armament to the greater cause of mankind's welfare--to do all these things whenever, and as soon as, one basic requirement is met. This requirement is that we, as a nation, and all peoples, know safety from attack.
In this spirit and in this awareness, we as a nation have two tasks. First: we must--and do--seek assiduously to evolve agreements with other nations that will promote trust and understanding among all peoples. Second: at the same time, and until that international trust is firmly secured, we must--and do--make sure that the quality and quantity of our military weapons command such respect as to dissuade any other nation from the temptation of aggression.
Thus do we develop weapons, not to wage war, but to prevent war.
Only in the clear light of this greater truth can we properly examine the lesser matter of the testing of our nuclear weapons.
On this specific matter, I last week directed the appropriate Departments and Agencies of your Government to submit to me summaries of all relevant facts in their respective areas of responsibility. This record covers the span of the past 11 years--since the first atomic explosion which occurred in a test in New Mexico. It may be pertinent to note that my direct personal concern with these matters extends almost uninterruptedly over these some 11 years--in my successive capacities as Chief of Staff of the Army, Advisor to the Secretary of Defense, Supreme Commander Allied Powers Europe, and, since 1953, as your President and Commander-in-Chief of the Armed Forces.
This record of your government's policies and actions--insofar as it does not prejudice national security--is herewith made public. It encompasses facts in the several areas of national defense, scientific development, and diplomatic conduct.
This record reflects, clearly and consistently, the persistent, peaceful purposes of our nation.
II.
I deem it proper, in this summary statement, to take note of the most salient points of fact in the accompanying record.
One. Your Government has been unremitting in its efforts to ease the burden of armaments for all the world, to establish effective international control of the testing and use of all nuclear weapons, and to promote international use of atomic energy for the needs and purposes of peace. The manifest evidences of this extend from the beginning of this Administration to the present: (a) my appeal to these specific purposes as early as my address of April 16, 1953; (b) the offer of "atoms for peace" in December of the same year; (c) the appointment of a Special Assistant for Disarmament, with Cabinet rank, to develop and coordinate our efforts toward disarmament; (d) my offer at the meeting of the Heads of State at Geneva, in July of 1955, for immediate exchange of military blueprints between the United States and the Soviet Union, and mutual air inspection by the "open skies" formula; (e) acceptance of the Soviet proposal for ground-control teams if combined with air inspection; (f) the approval this week of the Statute to govern the International Atomic Energy Agency with 81 nations participating in its peaceful purpose; and (g) our continuing, constructive participation in the work of the U. N. Disarmament Commission.
Facts such as these have given substance and validity to my statement before the United Nations General Assembly on December 8, 1953:
"The United States pledges before you--and therefore before the world--its determination to solve the fearful atomic dilemma--to devote its entire heart and mind to find the way by which the miraculous inventiveness of man shall not be dedicated to his death, but consecrated to his life."
Two. The indispensable principle upon which we have insisted has been the securing of effective safeguards and controls in any program of disarmament. Our readiness to begin disarmament under such safeguards has been affirmed repeatedly during the past three and one-half years. At the Geneva Meeting of Foreign Ministers last autumn, it was specifically reaffirmed by the Secretary of State, with particular reference to nuclear weapons and their testing.
There is only one reason why no safe agreement has been effected to date: the refusal of the Soviet Union to accept any dependable system of mutual safeguards. In the past two years alone, the Soviet Union has rejected no less than 14 American proposals on disarmament and control of nuclear weapons.
Three. In the light of these facts, your Government has kept enlarging its stockpile of nuclear weapons, and has continued its development and testing of the most advanced nuclear weapons. The power of these weapons to deter aggression and to guard world peace could be lost if we failed to hold our superiority in these weapons. And the importance of our strength in this particular weapons-field is sharply accented by the unavoidable fact of our numerical inferiority to Communist manpower.
Four. The continuance of the present rate of H-bomb testing-by the most sober and responsible scientific judgment--does not imperil the health of humanity. On the amount of radioactive fall-out including Strontium 90, resulting from tests, the most authoritative judgment is that of the independent National Academy of Sciences. It reported last June, following a study by 150 scientists of the first rank, that the radiation exposure from all weapons-tests to date--and from continuing tests at the same rate--is, and would be, only a small fraction of the exposure that individuals receive from natural sources and from medical X-rays during their lives.
Five. On the other hand, the continuance of this testing is having two important beneficial results.
(A) The most recent tests enable us to harness and discipline our weapons more precisely and effectively--drastically reducing their fall-out and making them more easy to concentrate, if ever used, upon military objectives. Further progress along this line is confidently expected.
(B) And these same recent tests have helped us to develop-not primarily weapons for raster destruction--but weapons for defense of our people against any possible enemy attack, as well as knowledge vital to our whole program of civil defense.
Six. There is radio-active fall-out, including Strontium 90, from the testing of all nuclear weapons, of whatever size. But the character of the weapon, as well as its size, determines the fall-out. Such fall-out cannot be avoided--as has been implied--by limiting tests to the smaller nuclear weapons. Such fall-out of Strontium 90 as does take place results from the process of atomic fission. Fission is the basic phenomenon of the smaller weapons. Thus, the idea that we can "stop sending this dangerous material into the air"--by concentrating upon small fission weapons--is based upon apparent unawareness of the facts.
Seven. With reference to the Soviet Union: its sympathy with the idea of stopping H-bomb tests is indisputable. This idea merely reflects the Soviet Union's repeated insistence, ever since discussion of the Baruch Plan in 1946, that all plans for disarmament be based on simple voluntary agreements. Now, as always, this formula allows for no safeguards, no control, no inspection.
Eight. A simple agreement to stop H-bomb tests cannot be regarded as automatically self-enforcing on the unverified assumption that such tests can instantly and surely be detected. It is true that tests of very large weapons would probably be detected when they occur. We believe that we have detected practically all such tests to date. It is, however, impossible--in view of the vast Soviet land-mass that can screen possible future tests--to have positive assurance of such detection, except in the case of the largest weapons. Nor is it possible to state, immediately following the long-range detection of a test, its size and character.
Nine. If your Government were to suspend research and preparation for tests--as well as the tests themselves--and resume such preparation only upon knowledge that another nation had actually exploded another H-bomb, we could find our present commanding lead in nuclear weapons erased or even reversed. For the preparation for such a test may require up to two years.
Ten. If your Government were to suspend only its tests, while continuing precautionary research and preparation--if that were feasible--we could still suffer a serious military disadvantage. It requires a year or more to organize and effect such tests as those conducted at our proving ground in the Pacific Ocean.
III.
These facts dictate two conclusions.
First. We must continue--until properly safeguarded international agreements can be reached--to develop our strength in the most advanced weapons for the sake of our own national safety, for the sake of all free nations, for the sake of peace itself.
Second. We must--and we shall--continue to strive ceaselessly to achieve, not the illusion, but the reality of world disarmament. Illusion, in this case, can assume either of two forms. It can mean a reliance upon agreements without safeguards. Or it can be the suggestion that simple suspension of our nuclear tests, without sure knowledge of the actions of others, signifies progress-rather than peril.
There is nothing in post-war history to justify the belief that we should--or that we could even dare--accept anything less than sound safeguards and controls for any disarmament arrangements.
I remain profoundly hopeful that--if we stay strong and steadfast--the reality of significant world disarmament will come to pass.
There is every reason to believe that--if there but be sincerely peaceful purpose on all sides--the nations of the world can achieve and agree upon a system of dependable controls governing disarmament.
We shall never cease striving to this end.
Note: Released with this statement were two memorandums entitled "Weapons Tests and Peaceful Uses of the Atom" and "Disarmament Negotiations." Both are published in the Department of State Bulletin (vol. 35, P. 706).
Dwight D. Eisenhower, Statement by the President Reviewing the Government's Policies and Actions With Respect to the Development and Testing of Nuclear Weapons. Online by Gerhard Peters and John T. Woolley, The American Presidency Project https://www.presidency.ucsb.edu/node/233702