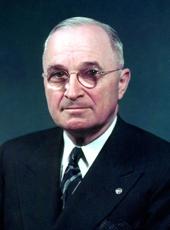 Statement by the President Making Public a Report of the Commission on Higher Education.
THE PRESIDENT'S Commission on Higher Education has submitted the first volume of its report. I look forward to studying this report and I hope that our citizens will also examine it carefully.
Higher education in our Nation is confronted today with tremendous responsibilities. Colleges and universities are burdened by great overcrowding and a shortage of teachers. Most importantly, however, we are challenged by the need to insure that higher education shall take its proper place in our national effort to strengthen democracy at home and to improve our understanding of our friends and neighbors everywhere in the world. It was for these compelling reasons that I asked this Commission to report to me and to the Nation. I am confident that the report will help all of us to understand this challenge. I am equally confident that it will prove to be of great value in meeting the challenge successfully.
A carefully developed program to strengthen higher education, taken together with a program for the support of elementary and secondary education, will inevitably strengthen our Nation and enrich the lives of our citizens.
The members of the Commission have worked diligently. They have taken time from their many tasks willingly, in order to lay before the people of the country their judgments on the great problems to be met by higher education. All of us should be grateful to them for their work.
Note: The report "Establishing the Goals," dated December 11, 1947 (Government Printing Office, 103 pp.), is the first of six volumes in a series entitled "Higher Education for American Democracy." The report was prepared by the President's Commission on Higher Education, of which George F. Zook served as chairman.
The report proposes sweeping changes in higher education. Specific recommendations include the abandonment of European concepts of education and the development of a curriculum attuned to the needs of a democracy; the doubling of college attendance by 1960; the integration of vocational and liberal education; the extension of free public education through the first 2 years of college for all youth who can profit from such education; the elimination of racial and religious discrimination; revision of the goals of graduate and professional school education to make them effective in training well-rounded persons as well as research specialists and technicians; and the expansion of Federal support for higher education through scholarships, fellowships, and general aid.
In conclusion the report urges establishment of community colleges; the expansion of adult education programs; and the distribution of Federal aid to education in such a manner that the poorer States can bring their educational systems closer to the quality of the wealthier States.
On December 21 the White House released volume II of the series, entitled "Equalizing and Expanding Educational Opportunity" (Government Printing Office, 69 pp.). Other reports in the series were released in 1948, as follows: vol. III, "Organizing Higher Education," released January 12; vol. IV, "Staffing Higher Education," January 25; vol. V, "Financing Higher Education," February 1; vol. VI, "Resource Data," March
Harry S. Truman, Statement by the President Making Public a Report of the Commission on Higher Education. Online by Gerhard Peters and John T. Woolley, The American Presidency Project https://www.presidency.ucsb.edu/node/232603