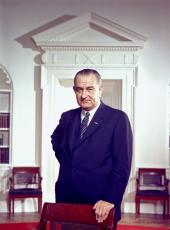 Statement by the President Making Public a Report on the Balance of Payments Position.
I AM HAPPY to be able to make public a report from Secretary Dillon which shows that for the first time in 7 years we have been able to increase our total gold holdings. This is the result of outstanding work by American exporters and full cooperation by all agencies of the Government.
We have not yet finished the job of closing our dollar gap, but we have taken a long step forward. With the continued effort of both business and Government we can reach our goal.
Note: Secretary of the Treasury Douglas Dillon's report, in the form of a letter dated October 30, 1964, stated that the payments deficit for 1964 had been running at an annual rate of about $2 billion, as against $3.9 billion in 1960 and $3.3 billion in 1963.
The improvement was due in part to the fact that exports were 12 percent above 1963 and 27 percent above the 1960 level. "Much of this improvement reflects the stable price level we have achieved domestically over these years, making our goods increasingly competitive in markets abroad," Secretary Dillon pointed out.
He also stated that a significant part of the improved balance of payments position was the result of actions taken to stem the outflow of dollars for Government spending abroad. "In that regard," he added, "we are well on our way toward reaching the target of a $1 billion reduction in Government spending from 1962 levels which was set in President Kennedy's Balance of Payments Message of July 18, 1963."
Secretary Dillon's report further stated that the improvement in our balance of payments had been the key factor inspiring new confidence in the dollar in markets throughout the world. "This improvement has been crucial in bringing our gold losses to a halt," the report concluded. "Indeed, our total gold holdings so far this year have shown an increase for the first time in seven years .... "
Lyndon B. Johnson, Statement by the President Making Public a Report on the Balance of Payments Position. Online by Gerhard Peters and John T. Woolley, The American Presidency Project https://www.presidency.ucsb.edu/node/241694