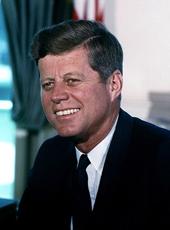 Statement by the President: Labor Day, 1962.
ON THIS, the second Labor Day within the period of my Administration, the issues of modern life--and the resolution of them--continue to challenge the strength and conscience of all free men.
The fact that we celebrate today a free way of life makes us more than ever aware of the dangers and burdens we willingly accept to preserve it. While self-government through economic institutions created by the people has produced extraordinary wellbeing for a vast population, it has also resulted in extraordinary responsibility for the individual.
Thus, this holiday is a time for both thanksgiving and resolution.
We are a blessed land. More American citizens are working than at any time in our history, earning more and producing the highest volume of goods and services on record. They enjoy economic and social protections and rights undreamed of in earlier times--and flatly denied in contemporary communist societies. Our labor organizations are free and strong, with a solid tradition of achievement. The economy has made significant progress from its recession lows, with production, incomes and profits all rising and the rate of unemployment declining.
The pace of scientific progress quickens by the year in every segment of the economy, in communications and transportation, manufacturing, medicine, agriculture and defense. There is hardly a human life or an American occupation untouched by this advance which is capable over the long run of creating a general abundance unprecedented in human history.
These achievements have been the work of men. They are the result of challenges faced, problems confronted, and effort expended, sometimes at great personal cost. They have been earned first and then inherited by our own generation. We must keep that same faith with our own children.
While we are gratified that nearly 70 million Americans have jobs, earning the highest wages in history, we are equally concerned about the 4 million who do not have jobs, and especially about the 100,000 persons who exhaust their unemployment insurance benefits each month without finding work.
American doctors and medical facilities are the finest in the world and research and application of new discoveries almost daily broadens the horizon of hope--yet the cost of medical care is too often prohibitive for those who need it most, our elderly population living on limited incomes.
We have built the most advanced system of transportation on earth, and the most competent construction technology, and educated some of the finest architects and city planners--yet our cities are darkened with the blight of slums, threatened with traffic congestion, and endangered with paralyzing social problems.
Our system of public education is the heart of our democratic society. Without it, self-government is not possible. Yet we could do more to prepare for the burdens this system will increasingly carry and which are borne at present only through high levels of local taxation.
This Nation has long been a maker of products for world markets. We must assure ourselves that such will continue to be the case by adopting trade policies that increase rather than hamper our ability to compete.
There is no nation in history that has provided such immeasurable opportunity to its citizens on the sole basis of merit and qualification. We have eradicated the class structures that weighed down the hopes of our forefathers in other times and established a distinct American personality related to man's aspirations and not his origins. Yet the reality of equality for the majority is still unrealized by too many others of our citizens. In some places, citizens still must pay to vote. In others, artificial restrictions are set up against races, colors and creeds to deny them equal access to employment and education. The distance we have traveled in eliminating prejudice is a measure of the distance we still must travel.
Thus, across the broad range of American life, we find cause to be both thankful and resolute. Much has been given to us, and much is therefore expected from us.
This Administration has sought to acknowledge our needs and look upon our obligations not by the dimming lights of the past but the rising lights of the future. We are pledged to both candor and commitment, to frank assessment and forceful action. It is in this spirit that we address ourselves to the meaning of this Labor Day of 1962--that having done well, we will strive to do better; having achieved much, we determine to achieve more; having received freedom, we propose to enlarge it; having been granted the great gift of citizenship in these United States, we will reciprocate in the only coin that free men consider equal to their worth, that of their honor and their conscience.
John F. Kennedy, Statement by the President: Labor Day, 1962. Online by Gerhard Peters and John T. Woolley, The American Presidency Project https://www.presidency.ucsb.edu/node/236719