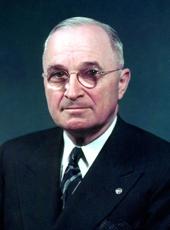 Statement by the President: Labor Day.
WE HAVE good reason for special observance of this Labor Day. It should be a day of thanksgiving for past accomplishments and present opportunity; but it should also be a day of solemn dedication to the tasks that lie ahead of us. This year, especially, Labor Day symbolizes our facing forward as a Nation in the heroic tasks we have assumed, with other free nations of the world, in the cause of peace.
It is appropriate on this Labor Day--as on this great holiday in the past--that we pay tribute to the tremendous achievements of American labor. Each year since the end of World War II we have had increasing cause to celebrate the record the working men and women of our country have made in helping to build a stronger and more vigorous economy.
The world has long witnessed the benefits that free labor has achieved under our democratic institutions. The working men and women of this country enjoy high wages, good working and living standards, and great opportunities. They are partners in a living democracy; today, more than ever before, they are a vital force in every section of our public life.
It is the purpose of the United States in the world today to bring about conditions of peace under which working men and women, in every land, can achieve better lives, and participate in the affairs of their own nations. We know that to reach this goal will require sustained hard work, by every one in our country and in all the free countries.
One of the great obstacles in the way is the Communist movement, which falsely professes to be the friend of those who labor, but which reduces the working man to slavery wherever it attains power. Today, this movement has violated the peace of the world. It threatens the free nations with aggression. In the face of this threat, our country has taken the only course that can lead to peace. We and other free nations, acting through the United Nations, have given unmistakable notice that armed aggression will be met with armed defense. And we are increasing and organizing our common strength, as a shield behind which we can carry on the great constructive tasks of peace.
We believe that a world at peace contains boundless possibilities for growth and progress-for all men everywhere. But the outcome is not alone ours to determine. Until there is concrete evidence that the aggressors are willing to have peace, we must build sufficient defenses. I know that American working men and women, as good citizens, stand ready to carry their share of the effort this will require.
I know that as President of the United States I can count upon the support and patriotic devotion of labor in our effort to bring about a just and enduring peace in the world--a peace that will mean ever greater rewards not only for our own workers but for workers everywhere.
HARRY S. TRUMAN
Harry S Truman, Statement by the President: Labor Day. Online by Gerhard Peters and John T. Woolley, The American Presidency Project https://www.presidency.ucsb.edu/node/230186