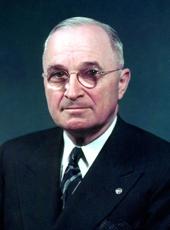 Statement by the President: Labor Day.
TODAY, is Labor Day--a day dedicated to the working men and women of America.
It has been 70 years since Peter J. McGuire first proposed to the New York Trades and Labor Assembly that there should be an annual holiday, a Labor Day, to honor "the industrial spirit, the great, vital force of every nation."
This Nation has come far in those 70 years. And our working men and women have gained immeasurably in security and dignity and freedom, as citizens of the Republic and as partners in the Nation's economic progress.
Nearly 16 million American workers are now organized in unions of their own choosing, to help themselves, their communities, and their country. Their record is a tribute to the American system of free collective bargaining, which responsible trade unionism has developed to replace the old law of the jungle in our industrial relations. We should never forget, in our concern with occasional dramatic work stoppages, the tens of thousands of peaceful settlements, negotiated each year, by free unions with free management.
In this and many other ways, the trade unions of America have made a great and growing contribution to our national life. They are playing a vital, constructive, and responsible part in the growth of the American economy and in our great national effort to win peace and security for ourselves and all free peoples.
The Government has helped with laws safeguarding labor's right to organize and bargain collectively; and with other laws banning sweatshop wages and child labor, and preventing exploitation of the weak. The Government has helped with many measures to enhance the health and welfare and security of workers and all other citizens.
Today, we celebrate these advances for the working people of America. But it is not enough to celebrate the progress we have made. This is a day to look ahead, to plan where we are going, to consider the things we can accomplish in the future.
Many of our citizens--many of our working men and women--need more adequate protection against the great financial hazards of sickness, disability, unemployment, and old age. We need more and better housing for our growing population. We must build up our schools in many areas. We must end the discrimination which has cast shadows on some parts of our great record of freedom. We must improve our system of collective bargaining to promote industrial peace and productivity.
We must safeguard our national prosperity to keep our economy growing. We must safeguard our heritage of freedom against the attacks of totalitarian ideologies, both left and right. We must safeguard our national security by building strong defenses at home and by working with other nations to keep peace in the world.
Let all of us--workers, farmers, businessmen, all citizens--dedicate ourselves this Labor Day to these goals of peaceful progress for ourselves and for our country in the years ahead.
Note: The statement was released on August 28. Labor Day was observed on September 1, 1952.
Harry S Truman, Statement by the President: Labor Day. Online by Gerhard Peters and John T. Woolley, The American Presidency Project https://www.presidency.ucsb.edu/node/231331