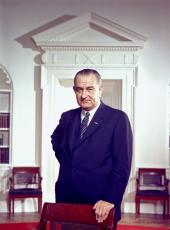 Statement by the President Following the Signing of the Federal Employees Salary Act of 1965.
THE first session of the 89th Congress enacted much historic legislation. It created new horizons for education, for health and medical care, for conservation, for civil rights and the war on poverty.
In one of its final actions, the Congress also made an important contribution toward helping us reach those new horizons. It passed the Federal Employees Salary Act of 1965.
We have the legislation and the legacy. It remains for us to fulfill them. How well we succeed will depend, to a large degree, on the ability and dedication of the men and women who work for our Government.
As I stated in my message to the Congress requesting this legislation, I am proud of the progress we have made toward lean and fit competence in the discharge of Federal responsibilities. Much of that progress results from our efforts during the past 3 years to make sure that salaries paid to our civil servants are neither more, nor less, than those paid for equal efforts in private industry. This bill brings us dose to that objective.
In every field of endeavor, the American system strives to give the worker an honest day's pay for an honest day's work, and to give his employer a maximum return for every dollar he spends on salaries. This is the system that has made us great. It applies to Government no less than to industry.
In Government, as in industry, rapid change will continue to cause dislocations in employment. Responsible employers, throughout the Nation, have recognized their responsibilities to employees whose jobs are affected by the march of progress. Government can do no less.
The burden of change, which is for the benefit of all, should be borne by all. I am pleased that this bill enables the Government to provide severance pay to Federal employees whose jobs are eliminated.
Above all, the benefits conferred by this bill are made possible within the wage-price guideposts developed by the Council of Economic Advisers. Wages in private industry have generally remained within these guideposts through the dedicated cooperation of both management and labor. I am proud that the Federal Government is showing the same sense of responsibility in conducting its own affairs.
We are now in the 56th month of the longest uninterrupted peacetime economic expansion in the history of our country. Wages, profits, and other income continue to increase. Significantly, these gains have not been diluted by inflation. The responsible action taken by Congress in passing this legislation insures continuation of that responsible partnership of industry, labor, and Government to which we owe so much.
We now have one more reason for looking forward with renewed confidence to the continued growth of America's prosperity.
Note: As enacted, the Federal Employees Salary Act of 1965, approved on October 29, is Public Law 89301 (79 Stat. 1111).
On November 13, 1965, the President signed Executive Order 11257 entitled "Delegating to the Civil Service Commission Certain Authority Relating to Severance Pay under the Federal Employees Salary Act of 1965" (1 Weekly Comp. Pres. Docs., p. 400; 30 F.R. 14353; 3 CFR, 1965 Supp., p. 187). The statement was released at Austin, Tex.
Lyndon B. Johnson, Statement by the President Following the Signing of the Federal Employees Salary Act of 1965. Online by Gerhard Peters and John T. Woolley, The American Presidency Project https://www.presidency.ucsb.edu/node/241156