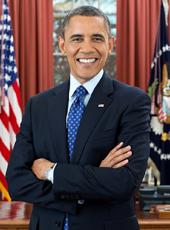 Statement by the President-Elect on Rahm Emanuel's Acceptance of the Position of White House Chief of Staff
I am pleased to announce that my good friend, Congressman Rahm Emanuel, has agreed to serve as my White House chief of staff. I announce this appointment first because the Chief of Staff is central to the ability of a President and Administration to accomplish an agenda. And no one I know is better at getting things done than Rahm Emanuel.
During his seven years in the Clinton White House, Rahm was the point man on some of the most difficult issues, from the passage of landmark anti-crime legislation to the expansion of health care coverage for children. In just six years in Congress, he has risen to leadership, helping to craft myriad important pieces of legislation and guide them to passage. In between, Rahm spent several years in the private sector, where he worked on large and complicated financial transactions. That experience, combined with his service on the committees on Ways and Means and Banking, have given Rahm deep insights into the challenging economic issues that will be front and center for our Administration. Though Rahm understands how to get things done in Washington, he still looks at the world from the perspective of his neighbors and constituents on the Northwest Side of Chicago, who work long and hard, and ask only that their government stand on their side and honor their values. The son of an Israeli immigrant, Rahm shares a passionate love for this country, and has devoted much of his life to its cause.
His decision to accept this position is a wonderful reflection of that commitment, for it is not easy to give up the significant position he holds today as chair of the House Democratic conference. The post he has accepted also will require more time away from Amy, and their children, Zach, Ilana and Leah, which I know is painful and difficult.
I appreciate his friendship. And I, and all Americans, should be grateful that Rahm is once again answering his country's call.
Barack Obama, Statement by the President-Elect on Rahm Emanuel's Acceptance of the Position of White House Chief of Staff Online by Gerhard Peters and John T. Woolley, The American Presidency Project https://www.presidency.ucsb.edu/node/285155