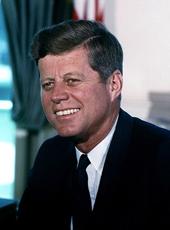 Statement by the President on Announcing the Appointment of Christian Herter as Special U.S. Representative for Trade Negotiations.
THE Trade Expansion Act of 1962 has had the high priority, the nonpartisan support, and the unqualified commitment which must be provided legislation which affects the vital security interests of the United States both here and abroad. The Congress provided authority not only to pursue agreements on trade and tariffs which would accommodate our national needs for expanding markets and thereby contribute to our economic strength and growth, but also to create entirely new reciprocal trading arrangements which would measurably contribute to the economic, political, and military strength and solidarity of the free world.
Thus, the importance of this task and the scope of interest and endeavor of the Special Representative goes beyond the immediate particulars of negotiations on trade and tariff matters. This work goes to the very heart of the many policies and programs, domestic and foreign, which will help to shape the world environment in which the United States must maintain initiative, command respect, and provide leadership. To this end, the Special Representative will necessarily be accorded a central role in the formulation of trade policy. He will be directly responsible for preparing the proposed objectives and strategies for negotiations and for directing those negotiations while they are in process. In a broader sense, he will become, along with the Secretaries of State and Commerce, one of the top policy officials of the United States Government in shaping and achieving our international objectives in the commercial, trade and economic fields.
Note: The position of Special U.S. Representative for Trade Negotiations was established by the Trade Expansion Act of 1962. Prior to Mr. Herter's appointment, Howard C. Petersen served as Special Assistant to the President for Trade Policy from August 15, 1961, through November 21, 1962.
On accepting Mr. Petersen's resignation the President referred to his invaluable help in developing the new trade act, in explaining its implications to both the Members of Congress and the country at large, and in guiding it through the Senate and the House of Representatives. Mr. Petersen's letter and the President's reply were released by the White House on November 21.
For the President's remarks upon signing the Trade Expansion Act of 1962, see Item 449.
John F. Kennedy, Statement by the President on Announcing the Appointment of Christian Herter as Special U.S. Representative for Trade Negotiations. Online by Gerhard Peters and John T. Woolley, The American Presidency Project https://www.presidency.ucsb.edu/node/236547