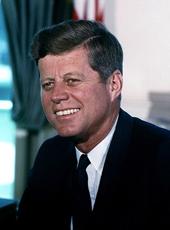 Statement by the President to American Women Concerning Their Role in Securing World Peace.
AS THE mothers of our children, women are most intimately concerned with the future of the human race. They realize that the nuclear threat to their own families is a threat to all mankind.
I have been asked how women can best translate their concern into effective participation toward preserving peace. As a first step, there is no substitute for information. While the issues may be complex, they are not beyond the understanding of any intelligent person who takes the time to study them. Understanding does not require either a military background or access to top secret documents. The best sources of information are your own congressman or the Arms Control and Disarmament Agency in Washington.
It is important, too, to encourage the widest possible discussion of arms control and disarmament questions--in church groups, in parent-teacher associations, in women's organizations of all kinds. You can contribute to the cause of peace by stimulating these groups to discuss the issues involved and to express their views.
Finally, you can contribute most directly-and in the best democratic tradition-by writing to your Representative and Senators when a specific issue bearing on peace is up for debate and decision. Nothing is more effective than a letter that reflects both an understanding of the question involved and a sincere expression of a personal viewpoint based on that understanding.
I have said that control of arms is a mission that we undertake particularly for our children and our grandchildren, and that they have no lobby in Washington. No one is better qualified to represent their interests than the mothers and grandmothers of America.
JOHN F. KENNEDY
Note: This statement, dated August 6, was prepared for publication in the November issue of seven magazines, in connection with articles based on earlier interviews with the President (see Item 319).
John F. Kennedy, Statement by the President to American Women Concerning Their Role in Securing World Peace. Online by Gerhard Peters and John T. Woolley, The American Presidency Project https://www.presidency.ucsb.edu/node/236628