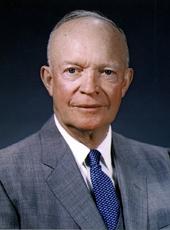 Statement by the President After Reviewing the Case of Julius and Ethel Rosenberg.
I HAVE GIVEN earnest consideration to the records in the case of Julius and Ethel Rosenberg and to the appeals for clemency made on their behalf. These two individuals have been tried and convicted of a most serious crime against the people of the United States. They have been found guilty of conspiring with intent and reason to believe that it would be to the advantage of a foreign power, to deliver to the agents of that foreign power certain highly secret atomic information relating to the national defense of the United States.
The nature of the crime for which they have been found guilty and sentenced far exceeds that of the taking of the life of another citizen; it involves the deliberate betrayal of the entire nation and could very well result in the death of many, many thousands of innocent citizens. By their act these two individuals have in fact betrayed the cause of freedom for which free men are fighting and dying at this very hour.
We are a nation under law and our affairs are governed by the just exercise of these laws. The courts have provided every opportunity for the submission of evidence bearing on this case. In the time-honored tradition of American justice, a freely selected jury of their fellow-citizens considered the evidence in this case and rendered its judgment. All rights of appeal were exercised and the conviction of the trial court was upheld after full judicial review, including that of the highest court in the land.1
1344 U.S. 838, 889.
I have made a careful examination into this case and am satisfied that the two individuals have been accorded their full measure of justice.
There has been neither new evidence nor have there been mitigating circumstances which would justify altering this decision, and I have determined that it is my duty, in the interest of the people of the United States, not to set aside the verdict of their representatives.
Dwight D. Eisenhower, Statement by the President After Reviewing the Case of Julius and Ethel Rosenberg. Online by Gerhard Peters and John T. Woolley, The American Presidency Project https://www.presidency.ucsb.edu/node/231583