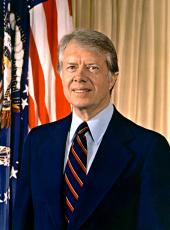 Statement on the Nomination of Six Persons To Be Members of the Board of Directors of the Synthetic Fuels Corporation
I am proud to announce today my nominees for the Board of the Synthetic Fuels Corporation.
The Synthetic Fuels Corporation is a cornerstone of our national energy policy. It is our main instrument in cutting the intolerable dependence on foreign oil which threatens our economic vitality and our national security.
The governing body of the Corporation, its Board of Directors, will be authorized to commit up to $88 billion to strengthen our country and literally to change the way we live. I have, therefore, searched throughout this country for six Board members of the very highest caliber. After an arduous search, I believe we have succeeded in this goal.
Lane Kirkland, the president of the AFL-CIO, will bring wise, thoughtful leadership to the Board. He understands fully the enormous job opportunities the Corporations energy program represents.
The AFL-CIO has been instrumental in helping devise and enact our Nation's energy program, and I know Lane Kirkland will be tremendously helpful in implementing this program.
Cecil Andrus, Secretary of Interior, will be an invaluable member of the Board. If confirmed, he will officially join the Board upon his resignation as Secretary of the Interior sometime after the November election. Cecil has indicated for some time his intention to resign as Secretary after the first term. I have tried to change his mind, but he feels strongly that he should leave after 4 years. Cecil has been a superb Interior Secretary. I know he will bring a keen knowledge of the West and the problems and opportunities the synthetic fuels initiative poses for Western States and communities to the Board. He also will have an appreciation for the environmental impact of the Corporation's proposed actions. I expect that as a former Governor, Cecil will help forge strong relationships between the Corporation and State and local governments.
Frank Savage, the vice president and manager of Equitable Life Insurance's Investment Management Department, has an outstanding financial and investment background. He will bring sound business and financial experience to the Board. He has managed Equitable's extensive energy investment programs and will understand how the Corporation can effectively stimulate the development and marketing of synthetic fuels in the private sector.
Frank Cary, the chairman of IBM, is one of America's most successful and innovative business leaders. He is an excellent manager and fine planner. He will bring a great deal of knowledge about finance, technological development, and sophisticated management techniques to the Corporation. Frank Cary shares my desire to make certain the private sector develops the capacity to quickly produce large quantities of synthetic fuels.
Catherine Cleary is a highly respected financial and business executive. She is the former chairman of the First Wisconsin Trust Company of Milwaukee and now serves as an adjunct professor of the University of Wisconsin's School of Business Administration. Catherine Cleary will be a strong Board member.
John DeButts, the retired chairman and chief executive officer of AT&T has compiled an enviable record as a manager and innovator. I have relied on his advice on numerous issues and have always found him to be thoughtful and constructive. He will bring tremendous business, financial, and technological experience to the Board. He deservedly has been recognized by his peers as one of our finest business executives, and I'm certain he will make significant contributions to helping organize and operate the Corporation.
Jimmy Carter, Statement on the Nomination of Six Persons To Be Members of the Board of Directors of the Synthetic Fuels Corporation Online by Gerhard Peters and John T. Woolley, The American Presidency Project https://www.presidency.ucsb.edu/node/251017