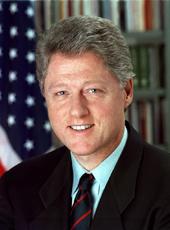 Statement on the Nomination of Roger L. Gregory to the United States Court of Appeals for the Fourth Circuit
Today I am very pleased to announce the nomination of Roger Gregory to serve on the United States Court of Appeals for the Fourth Circuit. Roger Gregory is a highly qualified candidate who will, if confirmed, serve the fourth circuit and our Nation with distinction.
His life story is also a testament to the power and promise of the American dream. Roger Gregory is from Richmond, Virginia, and is the first in his family to finish high school. He went on to college and law school, returning as a young adjunct professor to a school where his mother had worked as a maid. Today Roger Gregory is a highly respected Richmond litigator. He has tried hundreds of cases in the Virginia courts.
I am honored to nominate Roger Gregory because he is highly qualified and a strong candidate. But I am also proud to nominate a man who, if confirmed, will be the first African-American ever to serve on the fourth circuit. The fourth circuit has the largest African-American population of any circuit in this country, yet it has never had an African-American appellate judge. It is long past time to right that wrong. Justice may be blind, but we all know that diversity in the courts, as in all aspects of society, sharpens our vision and makes us a stronger nation. Roger Gregory's confirmation would be an historic step for the people of Maryland, North Carolina, South Carolina, Virginia, West Virginia, and for American justice.
The fourth circuit needs Roger Gregory. Its caseload has increased by over 15 percent in just 5 years yet more than a quarter of its bench stands empty. The seat for which I have nominated Roger Gregory has been declared a judicial emergency by the Administrative Office of the United States Courts. It has been vacant almost a decade, longer than any seat in the Nation. That is an embarrassment for any American who cares about our justice system. We cannot be tough on crime if our courts cannot conduct judicial reviews promptly and efficiently. And we cannot be tough on crime if the message we send Americans is that we do not care about our courts.
By all rights, Roger Gregory should be given a Senate vote in the next few months. But the Senate's failure to fulfill its obligations with respect to my nominees gives me cause for profound concern. Thirty-nine of my judicial nominees are pending before the Senate. These nominees have been kept waiting, on average, 273 days. And the fourth circuit has fared particularly poorly—my other fourth circuit nominee, Judge James Wynn, an African-American judge on the North Carolina Court of Appeals, has already been kept waiting for 330 days. I urge the Senate to give Roger Gregory and Judge Wynn the Senate votes that they so richly deserve.
We cannot afford to allow political considerations to empty our courts and put justice on hold. I have worked very hard to avoid contentious ideological fights over nominees. I have worked hard to put forward good, qualified candidates who reflect the diversity of our Nation. The judges I have nominated during my tenure as President are the most diverse group in history. They have also garnered, as a group, the highest American Bar Association ratings of any President's nominees in nearly 40 years. They have shattered the myth that diversity and quality do not go hand in hand. But despite the high qualifications of my nominees, there is a mounting vacancy crisis in our courts. Too often, we are creating situations in which justice delayed means justice denied. And ultimately, if we fail to make our courts reflect America, we risk an America where there may be less respect for the decisions of our courts.
William J. Clinton, Statement on the Nomination of Roger L. Gregory to the United States Court of Appeals for the Fourth Circuit Online by Gerhard Peters and John T. Woolley, The American Presidency Project https://www.presidency.ucsb.edu/node/228772