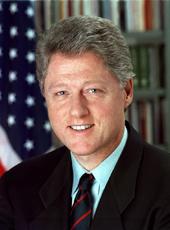 Statement on the Nomination of Kenneth Prewitt To Be Director of the Bureau of the Census
A fair and accurate census is a fundamental part of representative democracy and good government. To ensure that we conduct a sound and successful census in the Year 2000, I am pleased to nominate Dr. Kenneth Prewitt to be the next Director of the United States Census Bureau.
The decennial census is the foundation for our most important public values. It is the means by which everyone in this country is counted. It is the basis for providing equality under the law. And it is the single most important source of information about the American people.
By using the census, the Federal Government is able to designate funding for and evaluate programs across the Federal Government, in every State and every locality. It is the instrument that Congress and the executive branch use to properly allocate the more than 180 billion dollars in Federal funds every year for many programs like Head Start, programs for older Americans, the disabled, and for transportation. Conducting an accurate census truly affects every person in this country, and the quality of Census 2000 will have ramifications for decades to come.
To ensure fair and accurate data, we support the plan developed by the experts at the Census Bureau which was based upon recommendations by the National Academy of Sciences. This plan, developed at the explicit direction of Congress and endorsed by virtually all of the experts, will enable the Census Bureau to conduct the most accurate and cost-effective census in our history. It is a plan that will correct the inaccuracies in the former census which systematically undercounted children, minorities, and rural Americans. This collaboration between Government and the Nation's scientific community will enable Census 2000 to carry out its proud mission of protecting equality before the law, one person-one vote, and sound government.
Dr. Prewitt, one of the Nation's most distinguished social scientists and experienced executives, is the ideal person to lead the Census Bureau in this effort. He currently serves as the president of the Social Science Research Council. In the past, he has been senior vice president of the Rockefeller Foundation, the director of the University of Chicago's National Opinion Research Corporation, chairman of the Political Science Department at the University of Chicago, and vice president of the American Academy of Arts and Sciences. He has also served on the boards of trustees of Washington University, Southern Methodist University, the Center for Advanced Study in the Behavioral Sciences, NORC, and the German American Academic Council.
Dr. Prewitt is a person of impeccable credentials and proven scientific integrity. I urge the Senate to act promptly on his nomination.
William J. Clinton, Statement on the Nomination of Kenneth Prewitt To Be Director of the Bureau of the Census Online by Gerhard Peters and John T. Woolley, The American Presidency Project https://www.presidency.ucsb.edu/node/225541