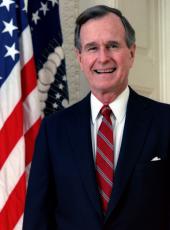 Statement on the Negotiations on Arms Reduction and Security in Europe
Today marks the beginning of a process of great importance for the people of Europe, the United States, and Canada, and for all who share the hope of a safer and more secure Europe. In Vienna, the Nations who are members of the Conference on Security and Cooperation in Europe and the members of the North Atlantic alliance and Warsaw Pact will begin two negotiations whose goal is to reduce the threat of conventional weapons in Europe: one on conventional armed forces in Europe and another separate negotiation on further confidence-and-security building measures.
The negotiations on conventional forces in Europe offer a new opportunity to redress the imbalance in military forces which strongly favors the Warsaw Pact and which has been a source of tension since the end of World War II. The NATO allies aim to eliminate the capability for launching surprise attack and for initiating large-scale offensive actions.
The negotiations on confidence and security building measures will address the problem of mistrust in the military and security spheres and the risk of confrontation arising through miscalculation. Our aim is to lift the veil of secrecy from certain military activities and forces and thus contribute to a more stable Europe.
Although these two negotiations have different participants and aim at different kinds of accords, they share a common purpose. That purpose is to make Europe safer, to reduce the risk of war, and strengthen stability on the continent that has seen more bloodshed in this century than any other part of the world.
We and our NATO allies share a common commitment to democratic values, respect for each others' sovereignty, and support for a strong defense. NATO's approach to these negotiations, therefore, rests on two important principles: that maintaining strong and modern defenses is essential to our security and freedom, and that negotiated and effectively verifiable agreements can enhance our security and the prospects for lasting peace.
Of course these negotiations are part of a larger process, one which must address the causes as well as the symptoms of the current divisions in Europe. Progress in the military field alone is not enough to bring enduring peace. What is needed is genuine reconciliation and an end to the division of Europe. True security cannot exist without guarantee of human rights and basic freedoms for all people.
The negotiations on security in Europe offer new promise for the future. We embark on them with the hope that we can build a lasting framework for a more stable and secure future, but we are realistic about the difficulties ahead. With a renewed dedication to a constructive dialog, we can make progress. The commitment of the United States to this effort is unswerving.
George Bush, Statement on the Negotiations on Arms Reduction and Security in Europe Online by Gerhard Peters and John T. Woolley, The American Presidency Project https://www.presidency.ucsb.edu/node/248309