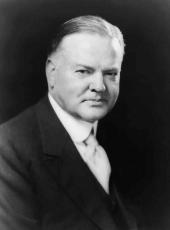 Statement on the Employment Stabilization Act of 1931.
THE PRESIDENT said:
"I have today had great pleasure in approving the act providing for advance planning of construction and Federal public works in preparation for future unemployment relief. Senator Wagner and Representative Graham have worked out an admirable measure in which they adopted the constructive suggestions of the various Government departments.
"The act gives wider authority and specific organization for the methods which have been pursued by the administration during the past 14 months in respect to the planning and acceleration of Federal construction work for purposes of relief to unemployment in times of depression. It is not a cure for business depression but will afford better organization for relief in future depressions.
"I feel it is just that I should take this occasion to make known two men who have had a large part in development of these ideas and their ultimate consummation--Mr. Edward Eyre Hunt of the Department of Commerce, and Mr. Otto Mallory, of Harrisburg, Pa. Proposals of such an organization for advanced planning were first advocated at the unemployment conference in 1921 by these men. The subject was exhaustively investigated by committees in which these two gentlemen participated in 1923 and 1928. The principles of this act were suggested to Congress at various times during the past 5 years, but it was not until we experienced this depression that their usefulness was recognized. I shall place the organization set up under the act, under the Secretary of Commerce."
Note: The Employment Stabilization Act of 1931 (Public, No. 616, 46 Stat. 1084) established the Federal Employment Stabilization Board.
Herbert Hoover, Statement on the Employment Stabilization Act of 1931. Online by Gerhard Peters and John T. Woolley, The American Presidency Project https://www.presidency.ucsb.edu/node/207236