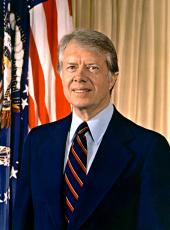 Statement on the Decline in the Leading Economic Indicators:
Today's decline in the leading economic indicators means that the economy is headed downhill in the months ahead. While President Ford continues to insist that his policies have been successful, each day brings new evidence that the economic picture ahead shows more unemployment and a further decline in the standard of living for the average worker.
The most recent bad news from President Ford's own Department of Commerce shows a sharp and broad-based decline in the economic indicators for the second month in a row—the first time that has happened since the last recession.
Seven of the eleven indicators worsened, including the particularly troublesome news that the layoff rate is up and the average work week is down. This further deterioration in the employment situation means that we can expect unemployment to increase in the months ahead.
The bad news comes only one day after a report that consumer confidence in the economy is declining. I believe our people are worried because they fear losing their jobs, because inflation continues to rob them, and because they do not see leadership in the White House that intends to come to grips with these problems.
The value of what our workers earn today is 2 percent below what it was when Mr. Ford took office. This is the bottom line of the disastrous economic policies followed by the Republicans. The average worker has been on a treadmill for the last two years, and is sliding backwards fast in the midst of what Mr. Ford calls a recovery.
Our people are being hit on all sides, by rising prices, layoffs, shorter working hours and smaller real paychecks. This administration has made working men and women the hostages in their fight against inflation, and yet in the last three months, inflation has still been running at a 6 percent rate. Wholesale prices of the materials that go into consumer goods have been rising at a 10 percent rate. This will mean even higher consumer prices in the months ahead.
The message of the Republicans to our people is wait for a while— prosperity is just around the comer.
I believe our waiting period must come to an end. The Republicans have had eight years and failed. We simply cannot depend on those who created this economic mess to clean it up. It's time for new leadership, with new ideas, to get our economy moving again.
Jimmy Carter, Statement on the Decline in the Leading Economic Indicators: Online by Gerhard Peters and John T. Woolley, The American Presidency Project https://www.presidency.ucsb.edu/node/347590