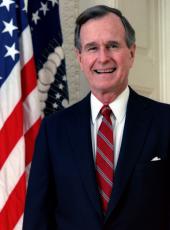 Statement on the Copenhagen Declaration of the Conference on Security and Cooperation in Europe
Last May, in a commencement address at the University of South Carolina, I identified free elections, political pluralism, and the rule of law as the cornerstones of freedom and urged that they be enshrined among the principles of the 35-nation Conference on Security and Cooperation in Europe (CSCE). I am pleased to report that this morning, the 35 nations of the CSCE Conference in Copenhagen adopted a document laying precisely that foundation for freedom. I commend the U.S. delegation, under the direction of Ambassador Max M. Kampelman, for its major role in that historic achievement.
With the Copenhagen Declaration, the CSCE has sought and reached an historic new consensus. The nations of Europe -- along with the United States, Canada, and the Soviet Union -- have now committed themselves to the path of democracy based on justice, peace, security, and cooperation. The promise of the 1975 Helsinki accords now has become a program of democratic action. This is the most significant step forward that the CSCE has taken since the inception of the Helsinki process.
This program of action has been shaped and embraced by our NATO allies, the neutral and nonaligned European States, the Soviet Union, and the emerging democracies of Central and Eastern Europe. It brings together nations, large and small, and opens the house of democracy -- the commonwealth of free nations I have spoken about -- to all of Europe's peoples. Together, the CSCE signatory nations now stand before their own peoples and before the world community on the solid ground of shared democratic values. Together, we now must put our program of democratic action to work fulfilling the promise of a Europe whole and free.
George Bush, Statement on the Copenhagen Declaration of the Conference on Security and Cooperation in Europe Online by Gerhard Peters and John T. Woolley, The American Presidency Project https://www.presidency.ucsb.edu/node/264556