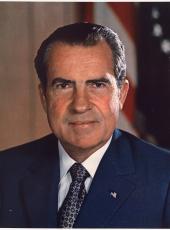 Statement on the Appointment of John S. D. Eisenhower as Chairman of the Interagency Classification Review Committee.
FOR ALMOST 16 months this Administration has made a determined push to overhaul the security classification system within the Government, and now I am pleased to announce a major step forward in that effort.
Effective today, I have appointed John S. D. Eisenhower as Chairman of the Interagency Classification Review Committee.
This Committee will oversee the implementation and operation of the new system for classification and declassification of Government documents which I established in Executive Order 11652 of March 8, 1972. Also serving on the Committee will be senior representatives of the Departments of Defense, State, and Justice, the Central Intelligence Agency, and the Atomic Energy Commission. David R. Young of the National Security Council staff will act as Executive Director.
Concurrent with the appointment of this panel, we have also acted today to implement several important features of the new system. Under a directive issued by the National Security Council, each department originating classified information has been asked to set up a computerized data index system for classified material and to compile name lists of all persons with authority to classify documents. This application of computer technology across the board should lead to a much more manageable classification system and greatly enhance the flow of information to the public.
Overseeing our new approach to Government documents will not be an easy task, for a delicate balance must be struck between the public's right to know and the Government's obligation to protect the national security.
In obtaining the services of Ambassador Eisenhower for this assignment, the public can be certain of wise and vigorous leadership. An Army officer for many years, an Ambassador to Belgium for more than 2 years, and with considerable experience in historical writing and research, John Eisenhower has perhaps a unique understanding of the competing interests in this field.
More than that, he shares his father's abiding belief that the strength of a democracy rests heavily upon an informed and active citizenry. I have asked him to give unswerving allegiance to this belief in his new post, and I am confident he will do so.
Note: A White House announcement containing biographical information on Mr. Eisenhower was released on the same day and is printed in the Weekly Compilation of Presidential Documents (vol. 8, p. 871 ).
The White House also released the text of a National Security Council directive governing the classification, downgrading, declassification, and safeguarding of national security information, and the transcript of a news briefing by Mr. Young on the directive. The directive is published in the Federal Register of May 19, 1972.
Richard Nixon, Statement on the Appointment of John S. D. Eisenhower as Chairman of the Interagency Classification Review Committee. Online by Gerhard Peters and John T. Woolley, The American Presidency Project https://www.presidency.ucsb.edu/node/254793