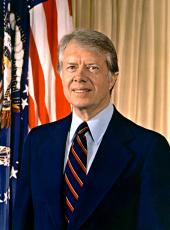 Statement on the Appointment of Gen. Bernard W. Rogers as Supreme Allied Commander, Europe, and Commander in Chief of U.S. Forces in Europe of the North Atlantic Treaty Organization
I am pleased today to announce that the Defense Planning Committee of the North Atlantic Council has appointed Gen. Bernard W. Rogers to be the Supreme Allied Commander, Europe, succeeding Gen. Alexander Haig, who has served with great distinction in that important post for the past 4 1/2 years. In addition, I am appointing General Rogers to be Commander in Chief of United States forces in Europe, a position also being vacated by General Haig this June 30. General Rogers is currently serving as Chief of Staff of the U.S. Army.
The change of military command in NATO is an appropriate time to reflect upon the importance of the Alliance to the United States, to the West as a whole, and to the cause of world peace.
Thirty years ago, we joined European and Canadian friends in creating the North Atlantic Alliance. Since that time, NATO has been the cornerstone of U.S. security policy, reflecting the vital importance of the security and well-being of Western Europe to the security of North America. NATO has served us well: It has helped keep the peace in an area historically burdened by war, and it has brought the peoples of Europe and North America even closer together. To these ends, the Alliance has maintained strong military forces, and it has developed unique practices of political consultation. General Rogers will make important contributions to both of these efforts, drawing on his long and distinguished career as a soldier-statesman.
In recent years, the Alliance has faced difficult challenges. Most important is the steady growth and modernization of Warsaw Pact–and especially Soviet–forces. We are now moving together to meet that challenge. We will succeed. I have been deeply gratified by our Allies' response, through the NATO Long-Term Defense Program–adopted at the NATO Summit here last May–and through efforts to increase cooperation in defense procurement. It is vital to Allied security that the members of NATO fulfill these new commitments.
In the United States, we are making greatly needed increases in our defense capabilities. Much of this added strength will apply directly to NATO defense. We remain the world's most powerful country-militarily, politically, and economically-and I am determined that this position not be eroded. This strength, coupled with that of our NATO Allies, is the best hope for peace in Europe, and the best prospect for limiting and reducing the weapons of war.
In times of change and often turmoil in other parts of the world, the strength of NATO takes on an added dimension. It becomes even more important to guarantee security and stability in Europe, to give us added confidence in our ability to prevent the growth and spread of conflict, and to enable us to work effectively for peace in the world beyond the NATO area.
Because of the continuing importance of NATO, I am pleased that General Rogers will undertake these new and demanding responsibilities. He will play a key role in the revitalization of Alliance defenses, and in the strengthening of the political bonds of our relations with Canada and the European members of NATO. His distinguished career demonstrates his fitness to undertake these burdens–and he will have my full support and, I am sure, that of the Nation, as well.
Jimmy Carter, Statement on the Appointment of Gen. Bernard W. Rogers as Supreme Allied Commander, Europe, and Commander in Chief of U.S. Forces in Europe of the North Atlantic Treaty Organization Online by Gerhard Peters and John T. Woolley, The American Presidency Project https://www.presidency.ucsb.edu/node/248978