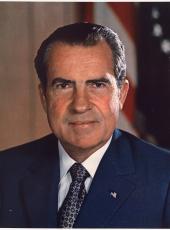 Statement on Signing Veterans Pension and Compensation Bills.
I HAVE signed today two bills which will expand and reform pension payments and compensation benefits for America's veterans and their dependents. The enactment of this legislation marks another important step in our efforts to provide a better life for those who have given so much to preserve and protect our Nation. America's veterans and their families have a special place in our history--and in our hearts. The legislation I have signed today recognizes the special obligation our country owes them.
The veterans disability and death pension act of 1971 (H.R. 11651 ) both raises and revamps the monthly pensions which our Government now provides to some 2.2 million veterans and survivors. These benefits are paid, on the basis of need, to veterans who have served during wartime periods and have suffered disabilities not attributable to their service and to the families of such veterans whose deaths resulted from such injuries. As a result of this legislation, such pensions will rise by an average of 6.5 percent.
The veterans dependency and indemnity compensation act of 1971 (H.R. 11652) will increase and restructure monthly compensation benefits for some 290,500 widows, children, and dependent parents of veterans who have died as a result of service-incurred disabilities. The increase will range from 5 to 10 percent, depending primarily on the effective date of the previous benefit increase.
In addition, both of these acts contain one other reform of particular importance-one which was strongly recommended by this Administration. In keeping with the general strategy of our income maintenance programs, a change has been made in the method by which benefits are allocated.
The new allocation formula strengthens the principle that the size of a person's benefits should vary with the amount of his income. It accomplishes this by eliminating the more than 20 income categories-each spanning a $100 range to which all recipients are now assigned. Under the old system, the size of a person's benefits fell abruptly whenever his income moved across the $100 line which separated one category from another. This meant that a small increase in outside income, if it happened to move a person from the top of one category to the bottom of another, could cause an inequitable decrease in benefits--and could thus bring about a lower overall income position.
Under the new formula, the size of a person's benefits will change by a few cents every time his income changes by one dollar. Instead of more than 20 rigid categories, there will now be a much finer tuning of benefit amounts to an individual's income position. The danger of abrupt declines in pensions will thus be eliminated, and most recipients can be sure that when their outside income goes up, their overall income position will go up also.
The amount of benefits lost for each outside dollar received will be scaled progressively, so that those with lowest incomes will receive the most help. Under the new pension formula, for example, a single veteran whose outside income is above $2,200 will lose 7 cents in pension for every dollar of additional outside income. But if a veteran's income is below $1,000, his reduction rate will be only 3 cents in pension per dollar of additional outside income.
H.R. 11651 also provides that the ceiling on the amount of outside income a pensioner can receive before he loses all benefits will be raised by $300. It raises the ceiling by the same amount for the 13.6 percent of pensioners whose benefits are still determined under the flat-payment system in use before 1960. H.R. 11652 extends this same consideration to the dependent parents of deceased veterans. The two bills make a number of additional changes in our pension and compensation programs.
I have signed this legislation with the greatest pleasure. Along with other recommendations we have made and other actions we have taken, it can have a very direct impact for good in the lives of millions of Americans who deserve the very best from their country.
Note: The statement was released at Key Biscayne, Fla.
As enacted, H.R. 11651 is Public Law 92-198 (85 Stat. 663), and H.R. 11652 is Public Law 92-197 (85 Stat. 660), both approved on December 15, 1971.
Richard Nixon, Statement on Signing Veterans Pension and Compensation Bills. Online by Gerhard Peters and John T. Woolley, The American Presidency Project https://www.presidency.ucsb.edu/node/240443