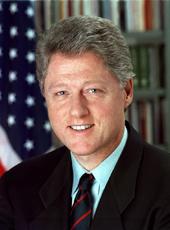 Statement on Signing the Y2K Act
Today I have signed into law H.R. 775, the "Y2K Act." This is extraordinary, time-limited legislation designed to deal with an exceptional and unique circumstance of national significance—the Y2K computer problem.
In signing this legislation, I act in the belief and with the expectation that companies in the high technology sector and throughout the American economy are serious in their remediation efforts and that such efforts will continue. Many have worked hard to identify the potential for Y2K failures among their systems and products, taken reasonable measures to inform those who might be injured from Y2K failures of steps they could take to avoid the harm, and fixed those systems and products, where feasible. If nonetheless there are significant failures or disruptions as we enter the Year 2000, plaintiffs will turn to the courts seeking compensation. Responsible companies fear that they will spend millions or more defending Y2K suits, even if they bear little or no responsibility for the harm alleged. Frivolous litigation could burden our courts and delay relief for those with legitimate claims. Firms whose productivity is central to our economy could be distracted by the defense of unwarranted lawsuits.
My Administration sought changes to make the Y2K Act balanced and fair, protecting litigants who are injured and deserve compensation. We achieved some additional protections. For example, the Y2K Act was modified to ensure that the Federal law leaves intact the State law doctrines of unconscionability that protect unwary consumers and small businesses against unfair or illegal contracts and that public health, safety, and the environment are protected, even if some firms are temporarily unable to comply fully with all regulatory requirements due to Y2K failures.
In addition, the Y2K Act expressly exempts Y2K actions involving private securities claims arising under the Securities Act of 1933 and other Federal securities laws that do not involve actual or constructive awareness as an element of the claim (e.g., section 11 of the 1933 Act). More generally, actions by the Securities and Exchange Commission are excluded from the definition of "Y2K Action."
This is narrow, time-limited legislation aimed at a unique problem. The terms of the statute should be construed narrowly to create uniform Federal rules for Y2K actions in the areas specified in the bill, and to leave in place State law not in direct conflict with the bill's provisions. Moreover, my signature today in no way reflects support for the Y2K Act's provisions in any other context.
I hope that we find that the Y2K Act succeeds in helping to screen out frivolous claims without blocking or unduly burdening legitimate suits. We will be watching to see whether the bill's provisions are misused by parties who did little or nothing to remediate in order to defeat claims brought by those harmed by irresponsible conduct.
In the remaining days of 1999, I hope that the business community redoubles its efforts at remediation. Preventing problems before they start, and developing contingency plans when necessary, are still the best solutions to the Y2K problem.
WILLIAM J. CLINTON
The White House, July 20, 1999.
NOTE: H.R. 775, approved July 20, was assigned Public Law No. 106-37.
William J. Clinton, Statement on Signing the Y2K Act Online by Gerhard Peters and John T. Woolley, The American Presidency Project https://www.presidency.ucsb.edu/node/226930