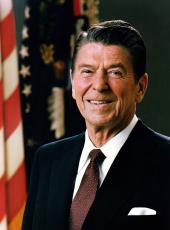 Statement on Signing the Veterans' Disability Compensation, Housing, and Memorial Benefits Amendments of 1981
Today, I am pleased to sign S. 917, the "Veterans' Disability Compensation, Housing, and Memorial Benefits Amendments of 1981." This bill will provide some 2.3 million service-disabled veterans and their survivors an 11.2 percent average cost-of-living increase in compensation benefits, retroactive to October 1 of this year.
At a time when we are striving to restore the economic stability that is essential to the overall strength of this Nation, we cannot lose sight of the nation's debt to those brave veterans who have sacrificed their life and limb for the defense of their country. In my budget last March, I proposed an 11.2 percent increase in compensation benefits. I am gratified that an increase now has become a reality.
S. 917 will benefit veterans in many other ways. For example, it contains increases in the amount of life insurance our service members can buy and strengthens the Veterans Administration's home loan and automobile assistance programs.
Although this bill is laudable in most respects, it contains two provisions that represent unwarranted intrusions on executive branch management. The first of these would require lengthy delays in reorganizations of VA activities. designed to achieve more economical and effective operation. I am pleased that the final provision, unlike some earlier versions of it considered by the Congress, respects the constitutional principle of the separation of powers. It will, however, unwisely restrict executive flexibility in achieving managerial improvements.
The second provision that I find troublesome would effectively preclude the VA from conducting cost comparisons under OMB Circular A-76 to determine the most economical means of performing selected functions within its medical facilities—by contract or by the use of Federal employees in VA. Over the next few months, my administration will work with the Congress to allay its concerns and to find a mutually agreeable approach to the application of the Circular's provisions to the VA.
I want to commend both Chairman Alan Simpson and Chairman Sonny Montgomery of the Senate and House Veterans' Affairs Committees for their skillful and dedicated stewardship of this bill.
Note: As enacted, S. 917 is Public Law 9766, approved October 17.
Ronald Reagan, Statement on Signing the Veterans' Disability Compensation, Housing, and Memorial Benefits Amendments of 1981 Online by Gerhard Peters and John T. Woolley, The American Presidency Project https://www.presidency.ucsb.edu/node/246433