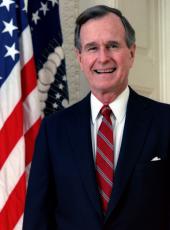 Statement on Signing the Veterans' Benefits Amendments of 1989
I am pleased today to sign into law H.R. 901, the "Veterans' Benefits Amendments of 1989." This bill will increase certain benefits paid to veterans and make other improvements in veterans' programs.
Our Nation provides compensation and other monetary benefits to service-disabled veterans and dependency and indemnity compensation (DIC) benefits to the survivors of those who died as a result of military service to our country. My administration is committed to ensuring that these payments keep pace with changes in the cost of living.
H.R. 901 provides a 4.7 percent increase in compensation and DIC benefits, effective December 1, 1989. Nearly 2.2 million veterans and their dependents and about 312,000 surviving spouses and children will benefit from this increase. They will receive the same cost-of-living adjustment that social security beneficiaries and veteran pensioners are receiving this month.
This legislation also revises the veterans' housing loan guaranty program. This program has provided home financing for over 13 million veterans since the end of World War II. The provisions of H.R. 901 are designed to ensure continued solvency of the funding for this most important benefit. The bill requires a modest increase in the user fee for veterans obtaining home loan guarantees, but actually reduces the fee for veterans who make a small down payment. In most cases, veterans who obtain VA home loans in the future will be indemnified against liability following a foreclosure. The bill also makes a number of other improvements in the housing program.
I am further pleased to endorse the extension in H.R. 901 of several valuable veteran health-care programs. In particular, the bill continues two programs in which the Department of Veterans Affairs (VA) works in partnership with the States and the private sector to provide care to veterans. It extends the "State Home" program, under which VA provides partial funding for construction of State-operated facilities for the care of veterans. It also extends a program under which VA contracts with halfway houses for the care of homeless, chronically mentally ill veterans.
This measure also makes numerous improvements affecting the educational benefits and employment of veterans, the vocational rehabilitation of service-disabled veterans, and the educational assistance provided to the survivors and dependents of persons who died or were permanently and totally disabled in the service of our country. The bill includes a 7.5 percent increase in the allowances payable to both service-disabled veterans participating in vocational rehabilitation and survivors and dependents in education programs. This increase will benefit over 70,000 veterans and dependents.
For these reasons, I am gratified to approve this bill.
George Bush
The White House,
December 18, 1989.
Note: H.R. 901, approved December 18, was assigned Public Law No. 101 - 237.
George Bush, Statement on Signing the Veterans' Benefits Amendments of 1989 Online by Gerhard Peters and John T. Woolley, The American Presidency Project https://www.presidency.ucsb.edu/node/264291