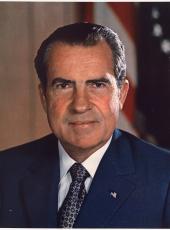 Statement on Signing the Uniform Relocation Assistance and Real Property Acquisition Policies Act of 1970.
I HAVE today signed S. 1, the uniform relocation assistance and land acquisition policies act of 1970. This bill provides for the uniform and equitable treatment of persons displaced from their homes, businesses, or farms by Federal and federally assisted programs, and it establishes uniform and equitable land acquisition policies for these programs. This legislation is the culmination of lengthy and extensive efforts by both the executive and legislative branches of Government to assure that all persons displaced by programs financed by the Federal Government would be treated alike and fairly.
This legislation is necessary to eliminate the serious inconsistencies that exist between Federal and federally assisted programs with respect to the amount and scope of payments, other assistance provided, and assurances of housing offered. It provides for a fair program for relocation payments, advisory assistance, assurance that comparable, decent, safe, and sanitary replacement housing will be available for displaced persons prior to displacement, economic adjustments, and other assistance to owners and tenants displaced from their homes, businesses, or farms. It establishes a uniform policy on real property acquisition practices for all Federal and federally assisted programs.
To assure that all Federal programs administer this law uniformly and equitably, I am taking steps through the new coordinating capability of the Office of Management and Budget to have implementing guidelines developed by an interagency task force. I am also directing the Secretary of Housing and Urban Development to develop criteria and procedures whereby all Federal and federally assisted programs can use authority provided in this legislation to construct replacement housing.
I am asking the heads of Federal agencies administering mortgage guarantee programs to determine how guarantees can be given to individuals who are displaced, who normally would be ineligible because of age or physical condition. I am directing the Office of Management and Budget to form a permanent relocation advisory group to review all problems encountered and to make recommendations to improve the relocation assistance guidelines and to recommend legislative changes to improve the program.
In signing this legislation which provides comprehensive authority to help solve a very difficult problem, I must note that the bill contains some deficiencies which I believe warrant corrective action by the Congress. These include needed correction in the limits, computation formulas, and safeguards to assure that payments are fair but not excessive. Early in the next session, the executive branch will submit proposals to accomplish such changes.
Note: As enacted, S. 1 is Public Law 91-646 (84 Stat. 1894).
Richard Nixon, Statement on Signing the Uniform Relocation Assistance and Real Property Acquisition Policies Act of 1970. Online by Gerhard Peters and John T. Woolley, The American Presidency Project https://www.presidency.ucsb.edu/node/240818