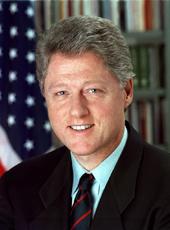 Statement on Signing the Ticket to Work and Work Incentives Improvement Act of 1999
Today I am pleased to sign into law H.R. 1180, the "Ticket to Work and Work Incentives Improvement Act of 1999." This landmark legislation will remove barriers that have placed many individuals with disabilities in the untenable position of choosing between health care coverage and work. It also improves and expands vocational rehabilitation and employment service options for this talented, but as yet not fully tapped, workforce.
This new law represents one of the most important legislative advances for people with disabilities since the enactment of the Americans with Disabilities Act. I have urged its passage for 2 years and was proud to include full funding for it in my FY 2000 Budget. The enactment of this law well illustrates what we can accomplish when we work together on a bipartisan basis to expand employment opportunities and affordable health-care options.
The Act will ensure that individuals with disabilities have a greater opportunity to participate in the workforce and in the American Dream. It offers new ways for the Federal Government to partner with the States and the private sector to help people with disabilities to work and to keep their health care coverage. Most significantly, H.R. 1180:
Expands States' ability to provide a Medicaid "buy-in" to individuals with disabilities who return to work.
Creates a new Medicaid demonstration to assess the effectiveness of providing Medicaid coverage to people whose condition has not yet deteriorated enough to prevent work, but who need health care to prevent or forestall that level of deterioration. This provision will allow States to help those individuals with diseases such as muscular dystrophy, Parkinson's Disease, diabetes, and HIV.
Lengthens from 4 years to 8- 1/2 years the period for which Social Security disability beneficiaries who return to work can continue to receive reduced-cost Medicare coverage.
Provides grants to States to design and administer infrastructures to provide services that support working individuals with disabilities.
Provides Social Security disability beneficiaries a choice of providers for employment-related services.
Authorizes the Social Security Administration to test new and innovative ways to enable individuals with disabilities to return to work and make economic independence a reality.
Enables individuals with disabilities to reestablish eligibility for Social Security disability benefits on an expedited basis if their attempts to return to work prove to be unsuccessful. These individuals will be able to request reinstatement of benefits without having to file a new disability benefits application—thereby reducing the risk of returning to work.
These provisions give people who want to work a chance to do so by ensuring access to health care insurance and modernizing the employment services system for people with disabilities. Together, these provisions affirm the basic principle manifested in the Americans with Disabilities Act: that all Americans should have the same opportunity to be productive citizens.
The Act also contains several provisions to extend expiring tax laws. These provisions continue incentives for the advancement of several national priorities and reaffirm our commitment to help American families and businesses. Most importantly, the bill extends the research and experimentation tax credit for 5 years, encouraging companies to undertake new multi-year research activities. This crucial tax credit will help innovative American companies build on my Administration's impressive economic achievements and will lead to new products and technologies to improve people's lives. In addition, H.R. 1180 extends for 3 years the provision that allows America's middle-income taxpayers full use of important personal tax credits—such as the child credit, the Hope Scholarship and Lifetime Learning credits, and the child and dependent care credits—without limitation by the alternative minimum tax. This also will allow tens of millions more taxpayers to forgo performing complex calculations.
The Act extends a provision that will help improve school facilities in low-income communities by providing no-interest loans to school districts in needy areas for rehabilitation and repairs, educational equipment, curriculum development, and teacher training.
The Act will provide more economic opportunity to Puerto Rico by extending application of the research and experimentation tax credit to such activity undertaken in Puerto Rico, as I proposed. In response to another of my proposals, H.R. 1180 also will provide a greater transfer of excise tax revenue on rum not made in the States to Puerto Rico and the Virgin Islands for 2- 1/2 years to provide aid that the islands urgently need.
Furthermore, H.R. 1180 extends through 2001 critical tax provisions to:
Encourage employers to pay for their workers' continuing education.
Help disadvantaged people, including welfare recipients, find jobs.
Encourage businesses to clean up polluted "brownfields".
Stimulate low- and no-emission production of power.
Assist first-time home buyers in purchasing a home in the District of Columbia.
It is unfortunate, however, that the revenue losses resulting from these provisions were not fully offset.
I am pleased that H.R. 1180 will do much to improve the lives of people with disabilities and will extend important tax provisions. I am deeply disappointed, however, that the bill includes a provision for a special allowance adjustment for student loans. This provision will expose the Federal Government, rather than lenders, to substantial financial risk due to the difference between Treasury and commercial paper borrowing rates, and will provide unnecessary and costly new benefits to the student loan industry with no benefit whatsoever to students.
My Administration has a deep and long-standing commitment to promote and increase the independence of individuals with disabilities. I would like to thank each individual who has been involved in the challenging work of developing this landmark legislation. Special thanks should be given to the congressional leaders, who have contributed so much to the passage of H.R. 1180, particularly Senators Jeffords, Kennedy, Roth, and Moynihan, as well as Representatives Dingell, Archer, Rangel, Stark, Waxman, Thomas, Matsui, Bliley, Shaw, Bilirakis, Nancy Johnson, Cardin, Sherrod Brown, and Lazio. I also want to acknowledge the efforts of Alexis Herman, Secretary of Labor; Kenneth S. Apfel, Commissioner of Social Security; and Donna Shalala, Secretary of Health and Human Services; as well as Tony Coelho and other members of my Task Force on Employment of Adults with Disabilities. These individuals, as well as many others throughout my Administration, worked tirelessly to bring this legislation forward.
Many individuals with disabilities want to work and become independent, and many can work if they receive the critical support they need. For too long, the fear of losing health and cash benefits and the inability to obtain rehabilitation and employment services has prevented such individuals' work efforts. As a Nation, we are best served when all our citizens have the opportunity to contribute their talents, energy, and ideas to the workplace. I am pleased to sign into law today this important step to empower more Americans with disabilities to take their rightful places in our Nation's workforce.
WILLIAM J. CLINTON
The White House, December 17, 1999.
NOTE: H.R. 1180, approved December 17, was assigned Public Law No. 106-170.
William J. Clinton, Statement on Signing the Ticket to Work and Work Incentives Improvement Act of 1999 Online by Gerhard Peters and John T. Woolley, The American Presidency Project https://www.presidency.ucsb.edu/node/229942