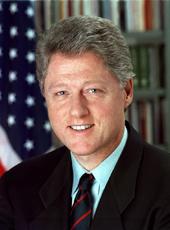 Statement on Signing the Supplemental Appropriations Act of 1993
On February 17, I unveiled my national economic strategy to increase growth and job creation, to reduce the deficit and lower interest rates. The plan reflects my belief that the United States had to address long-standing economic problems so we could expand growth and opportunity for all Americans.
The long-term portion of the plan is nearing completion by the Congress. The House and Senate have adopted versions of the plan that reduce the deficit by $500 billion while providing needed investments in our country's future strength and job creating ability. However, the short-term component, a jobs bill designed to keep the recovery on track, was not adopted by the Congress.
While there are some optimistic signs—lower long-term interest rates, the lowest mortgage rates in twenty years, and the creation of nearly one million jobs since January—I am not satisfied with the performance of the economy, many Americans are still hurting, and others are uncertain about the future.
Because too many Americans are still without meaningful work, I was pleased to sign into law last night a modest job creating bill, H.R. 2118, the Supplemental Appropriations Act of 1993. This Act funds a variety of critical programs, including key targeted investments that I requested in February. Adoption of this law means that summer jobs will be created, local law enforcement will be able to hire back police laid off during the last recession, and small businesses will be able to expand their payrolls, products, and profits. It also provides funding that will benefit farmers adversely affected by weather conditions in the Midwest.
This bill does not nearly provide what I believe is necessary to help our economy. But every job it creates, every policeman or policewoman it rehires, every farm devastated by weather it assists, and every small business it enables to grow will make a difference to the people and communities served by this legislation.
These are among the provisions of the Supplemental Appropriations Act of 1993:
The Act provides $220 million for stammer jobs for youth, including $50 million for the Youth Fair Chance Program. This new program will provide a comprehensive range of services to low-income youth in communities with high concentrations of poverty.
The Act provides $150 million for grants to State and local government to enhance public safety by hiring additional law enforcement personnel. These funds will help fight crime and offset layoffs resulting from fiscal restraints on local governments.
The Act provides $341 million to the Pell Student financial assistance program to help address a shortage of funding from previous years.
H.R. 2118 provides $175 million to support nearly $3.2 billion in SBA loan guarantees. Regular appropriations for SBA's primary lending programs were exhausted in late April, and the program has been shut down since then. The supplemental funds provided for SBA will allow thousands of businesses to receive loans for start-up, expansion, and working capital.
The Act provides $475 million for veterans compensation and pensions, and is necessary to ensure that payments continue to be made to veterans through the end of the fiscal year.
Honoring my commitment to provide additional assistance to victims of Hurricane Andrew, the bill makes available $271 million for disaster assistance through the Departments of Agriculture and Housing and Urban Development.
These hands are to be used to address the destruction caused by Hurricane Andrew, Hurricane Iniki, and Typhoon Omar and, in some cases, other Presidentially declared disasters as well. These funds are necessary to promote rebuilding and to respond effectively to the continuing need for disaster relief. In accordance with the applicable provisions of the Balanced Budget and Emergency Deficit Control Act of 1985, as amended, I join the Congress in designating the $63 million provided by the Act for agriculture disaster assistance as an emergency requirement.
The Act extends Federal crop disaster relief to farmers with disaster-related losses occurring prior to August 1, 1993, without appropriating additional disaster funds. Existing emergency funds are sufficient to pay roughly 15 cents for every dollar claimed. This provision will permit some assistance to farmers impacted by the recent floods in the Midwest. I have directed Agriculture Secretary Espy to submit to me a crop disaster assistance plan to provide additional assistance to these farmers.
The Act support $73 billion in loan guarantee authority to allow the FHA single- and multifamily mortgage insurance programs and the GNMA mortgage-backed securities program to continue operating through the rest of the year. Absent this supplemental, both programs would soon deplete their funding.
Finally, the Act provides $1.3 billion for the Department of Defense and partially offsets the additional funding with nearly $1 billion in rescissions. The additional funds are for the costs of Operation Restore Hope, Operation Southern Watch, and other requirements.
I commend the Congress for developing a supplemental appropriations bill that supports my investment program and meets urgent National needs.
WILLIAM J. CLINTON

The White House,

July 3, 1993.
NOTE: H.R. 2118, approved July 2, was assigned Public Law No. 103-50.
William J. Clinton, Statement on Signing the Supplemental Appropriations Act of 1993 Online by Gerhard Peters and John T. Woolley, The American Presidency Project https://www.presidency.ucsb.edu/node/219540