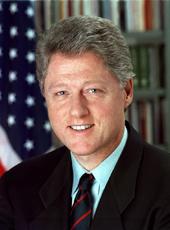 Statement on Signing the Social Security Independence and Program Improvements Act of 1994
Today I am pleased to sign into law H.R. 4277, the "Social Security Independence and Program Improvements Act of 1994." Fifty-nine years ago, President Franklin Delano Roosevelt signed the original Social Security Act, creating one of the most important and successful Government programs of all times. With the enactment of H.R. 4277, we are beginning a new chapter in the history of the Social Security program, one which recognizes the program's importance by elevating the stature of the agency responsible for its administration. Once combined with a genuine reform of our health care system, we will have fulfilled the vision of the original architects of the Social Security system to provide Americans protection against the vicissitudes of old age and ill health.
Establishing the Social Security Administration as an independent agency within the executive branch reflects my commitment to maintain the confidence of all Americans in the Social Security program. I sincerely hope that it will reassure those currently paying into the system that they too will receive benefits when they retire. For nearly 60 years, the Social Security Administration has done an admirable job of carrying out its principal mandate: ensuring that Americans receive the Social Security benefits to which they are entitled. The agency's new status recognizes and strengthens our commitment to this tradition of public service.
As I have stated many times, my Administration is committed to "putting people first." Consistent with this philosophy, I issued Executive Order 12862 directing public officials to "embark upon a revolution within the Federal Government . . . to provide service to the public that matches or exceeds the best service available in the private sector." Establishing an independent Social Security Administration will enhance its ability to meet this goal and provide "world class service" to all Americans.
I also want to highlight that H.R. 4277 includes important provisions designed to strengthen the integrity of the disability programs administered by the Social Security Administration. For example, recipients disabled due to substance abuse will now only receive benefits for a limited time (generally 36 months). These recipients must also undergo appropriate, available treatment.
Finally, I must note that, in the opinion of the Department of Justice, the provision that the President can remove the single Commissioner only for neglect of duty or malfeasance in office raises a significant constitutional question. I am prepared to work with the Congress on a corrective amendment that would resolve this constitutional question so as to eliminate the risk of litigation.
Again, I am pleased to approve H.R. 4277 and to reaffirm my commitment to carrying out the Social Security program for the benefit of our Nation's citizens.
WILLIAM J. CLINTON
The White House, August 15, 1994.
NOTE: H.R. 4277, approved August 15, was assigned Public Law No. 103-296.
William J. Clinton, Statement on Signing the Social Security Independence and Program Improvements Act of 1994 Online by Gerhard Peters and John T. Woolley, The American Presidency Project https://www.presidency.ucsb.edu/node/218084