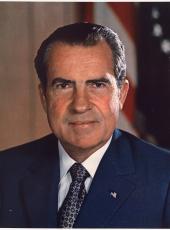 Statement on Signing the Social Security Amendments of 1972.
IT GIVES me very great pleasure to sign H.R. 1, landmark legislation that will end many old inequities and will provide a new uniform system of well-earned benefits for older Americans, the blind, and the disabled. This bill contains many improvements and expansions of the social security, Medicare, and Medicaid programs which this Administration recommended and is proud to bring into reality today.
But this legislation aims at goals which are larger than the sum of all of its various program improvements:
--It represents another step in my effort to end the gap that separates far too many older Americans from the mainstream of American life.
--It furthers my concept that, rather than being viewed as a problem, older Americans should be recognized and utilized as a priceless American resource whose energy, ideals, and commitment the Nation needs. But first they have to be protected against both the realities and the fears of income and health problems-and this bill will do much to advance such protections.
--It reaffirms and reinforces America's traditional efforts to assist those of our citizens who, through no fault of their own, are unable to help themselves. America has always cared for its aged poor, the blind, and the disabled--and this bill will move that concern to higher ground by providing better and more equitable benefits.
--Finally, it supports my conviction that the best way to help people in need is not with a vast array of bureaucratic services, but by providing them money and insurance so that they can secure needed services themselves.
H.R. 1's cost has always been a part of my budget estimates for fiscal year 1973. Due to its late enactment, the bill will actually provide a $900 million surplus over the additional outlays in fiscal year 1973.
Therefore, I am able to sign this bill without violating my promise to hold down Federal spending in order to avoid a general tax increase.
The social security taxes imposed by this bill, to pay for these benefits, also were included in my fiscal year 1973 budget estimates.
H.R. 1, as enacted, does not contain my proposals for reforming the welfare system for families with dependent children. This is a deep disappointment to all--including the taxpayers--who are the victims of the existing welfare mess.
In the next Congress, I will renew my efforts to achieve a work-oriented welfare program that will help all deserving people on a fair and equitable basis but which will contain firm work requirements, and will not encourage idleness by making it more profitable to go on welfare than to work.
Despite this major omission, H.R. 1 does give life to many of my recommendations to improve the quality of life for older Americans, the blind, and the disabled.
Social Security--It provides increased benefits for 3.8 million widows and widowers; it liberalizes the retirement earnings test by increasing from $1,680 to $2,100 the amount a beneficiary can earn without having benefits reduced, a provision that will aid 1.6 million persons; it establishes a special minimum benefit of $170 per month for 150,000 persons who have worked for long years at low wages; and it improves benefits for men retiring at age 62 and for those who work beyond 65.
Medicare/Medicaid--It extends Medicare to cover 1.5 million social security disability beneficiaries; it limits the monthly premium under Part B of Medicare, an expense I had urged be eliminated; it permits optional Medicare coverage through health maintenance organizations; and it extends Medicare coverage for kidney transplants and renal dialysis--the cost of which is beyond most individuals--to workers under social security, and their dependents.
I am especially pleased that this legislation embodies my recommendation that the Federal Government bear the full cost of skilled nursing home inspectors to ensure that all such institutions meet the standards that a dignified and humane existence--and the law--require.
Many of our nursing homes are of good quality. But many others fall woefully short of standards, and many patients are forced to live their later years in institutions which are unsanitary and unsafe, overcrowded and understaffed. This intensified inspection program will help clean up such neglect and degradation.
H.R. 1 also contains an important provision, sponsored by Senator Wallace Bennett of Utah, for the mandatory establishment of Professional Standards Review Organizations which will review the medical necessity, appropriateness, and quality of services covered under Medicare and Medicaid. This will assure that patients are getting exactly what they need and nothing which they do not need--with the highest possible quality of care all along the line.
The Needy Aged, Blind, and Disabled---H.R. 1 will establish, beginning January 1, 1974, a nationally uniform system of benefits for people in these groups. As delegates to the White House Conference on Aging pointed out, these people now are subject to great inequities and considerable red tape inherent in the present system of varying State programs with different benefits, eligibility standards, and rules. The cost of this measure for calendar year 1974 is estimated to be $ 1 .5 billion over what is being spent under the current law.
The new national plan--one I have long urged upon the Congress--will provide a minimum monthly benefit of $130 for an individual and $195 for a couple. States currently paying higher benefits would be encouraged to continue to do so by Federal assumption of any new costs involved.
This entire program will be fully financed by the Federal Government and efficiently executed with a minimum of paperwork by the Social Security Administration.
This legislation once again provides dramatic and heart-warming evidence that America is the country that cares-and translates that humanitarian care into a better life for those who need, and deserve, the support of their fellow citizens. The American way of life is the high achievement of our era and the envy of the world, and responsive and responsible legislation such as this is one major reason why.
I am highly gratified to be able, at long last, to put my signature on H.R. 1--thus lifting these long-sought benefits out of debate and placing them into the laws of our generous and compassionate land.
Note: As enacted, H.R. 1 is Public Law 92-603 (86 Stat. 1329.).
Richard Nixon, Statement on Signing the Social Security Amendments of 1972. Online by Gerhard Peters and John T. Woolley, The American Presidency Project https://www.presidency.ucsb.edu/node/255509