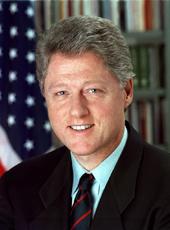 Statement on Signing the Small Business Year 2000 Readiness Act
Today I am pleased to sign into law S. 314, the "Small Business Year 2000 Readiness Act."
In 9 months we will enter the new millennium. We have made tremendous progress in our efforts to address the Year 2000 (Y2K) computer problem. In spite of this progress, however, too many businesses, especially small- and medium-sized firms, will not be ready unless they act immediately.
This week, the Small Business Administration (SBA), the Department of Commerce, the Department of Agriculture, and other Federal departments and agencies of the President's Council on Year 2000 Conversion are sponsoring "Small Business Y2K Action Week." At hundreds of Y2K seminars and training events across the country, these agencies are educating small businesses on the steps necessary for achieving Y2K compliance.
The message we are delivering to small businesses at these events is that every small business must take responsibility for making sure it is ready for the Year 2000 by taking action now. Every business should assess its exposure to the Y2K problem, ask its vendors and suppliers to be ready as well, and develop contingency plans in case its own critical systems or the systems of its vendors fail as we move into the Year 2000.
The legislation I am signing today will help ensure that the Nation's small businesses have access to the capital they need to be "Y2K- OK" in the Year 2000. The Act will authorize the SBA to provide loan guarantees for two Y2K purposes. First, it will enable small businesses to purchase the systems, software, equipment, and services necessary to become Y2K compliant. Second, it will assist small businesses that suffer economic injury as a result of the Y2K problem during the Year 2000. Authority for this special program will terminate on December 31, 2000.
I want to especially recognize the job that Administrator Aida Alvarez and the Small Business Administration have done in ensuring that the Nation's small business community is ready to meet the Y2K challenge. Through its leadership of Small Business Y2K Action Week, and its other extensive outreach efforts, the SBA has done an excellent job of raising the awareness of small businesses concerning the Y2K challenge. I would also like to thank the Congress for acting swiftly this session to ensure that we have this additional tool for assisting small businesses in their efforts to address this problem.
The Nation's small businesses are the backbone of our country's vibrant and growing economy. In signing S. 314 today, I hope to ensure that our small business community will move into the Year 2000 with minimal disruption to our Nation's economy.
WILLIAM J. CLINTON
The White House, April 2, 1999
NOTE: S. 314, approved April 2, was assigned Public Law No. 106-8.
William J. Clinton, Statement on Signing the Small Business Year 2000 Readiness Act Online by Gerhard Peters and John T. Woolley, The American Presidency Project https://www.presidency.ucsb.edu/node/229978