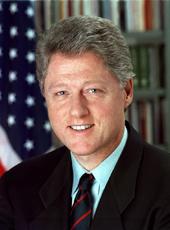 Statement on Signing the Shark Finning Prohibition Act
I have signed H.R. 5461, the "Shark Finning Prohibition Act." Shark-finning is the taking of a shark, removing the fin, and returning the carcass to the sea. This legislation prohibits shark-finning in all U.S. waters; provides for initiation of international negotiations to prohibit shark-finning; and authorizes research to conserve shark populations.
The Administration has actively supported the prohibition of shark-finning because of the harmful impact on sharks and shark populations. The practice has been administratively banned in the Atlantic Ocean, the Gulf of Mexico, and the Caribbean Sea. H.R. 5461 will establish the ban in law and extend it to the Pacific Ocean.
The United States has been a leading proponent of international shark conservation at the United Nations Food and Agriculture Organization and has advocated prohibiting wasteful fishing practices, including shark finning. We have also demonstrated considerable leadership in other international fora to conserve sharks and ban shark-finning. In the Eastern Pacific, the United States has been active in the Inter-American Tropical Tuna Commission in dealing effectively with issues such as shark management on the high seas. And the United States has been participating, along with thirty other countries, in the High-Level Multilateral Conferences for the Conservation and Management of Highly Migratory Species in the Western and Central Pacific. Finally, the United States plans to continue in its efforts at the International Commission for the Conservation of Atlantic Tunas to obtain a proposal that would ban shark-finning, as well as implement a variety of conservation measures.
Only through international cooperation can effective management be ensured for sharks, especially on the high seas. The United States will intensify efforts to convince other countries to join in prohibiting shark finning, consistent with the goals of H.R. 5461.
I note, however, that two provisions of the bill raise constitutional concerns. Because the Constitution vests the conduct of foreign affairs with the President, Congress may not dictate the executive branch's negotiations with foreign governments (section 5). Because the Constitution preserves to the President the authority to decide whether and when the executive branch should recommend new legislation, Congress may not require the President or his subordinates to present such recommendations (section 6). I therefore direct executive branch officials to carry out these provisions in a manner that is consistent with the President's constitutional responsibilities.
WILLIAM J. CLINTON
The White House, December 26, 2000.
NOTE: H.R. 5461, approved December 21, was assigned Public Law No. 106-557.
William J. Clinton, Statement on Signing the Shark Finning Prohibition Act Online by Gerhard Peters and John T. Woolley, The American Presidency Project https://www.presidency.ucsb.edu/node/228125