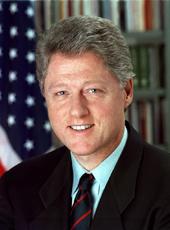 Statement on Signing the Securities Litigation Uniform Standards Act of 1998
Today I am pleased to sign into law S. 1260, the "Securities Litigation Uniform Standards Act of 1998," (Uniform Standards Act).
This country is blessed with strong and vibrant markets, and they function best when corporations can raise capital by providing investors with their best, good-faith future projections. This legislation will help stabilize the enforcement scheme of the Private Securities Litigation Reform Act of 1995 (the Reform Act) by ensuring that parties obtain the benefits of the protections that Federal law provides. The Uniform Standards Act reinforces our national capital markets by promoting uniform national standards for information generated for and used in national capital markets. If firms know that they can rely on the Reform Act's "safe harbor" for forward-looking information, they will provide the public with valuable information about their prospects, thus benefiting investors by enabling them to make wiser decisions.
The Reform Act substantially revised both substantive and procedural law governing private actions under Federal securities laws. It was designed to end litigation abuses and ensure that investors receive the best possible information by reducing the litigation risk to companies that make forward-looking statements. In addition to the safe harbor for forward-looking statements, the Reform Act created, among other things, a stay of discovery pending a defendant's motion to dismiss; limited the exposure of certain defendants by establishing proportionate liability, rather than joint and several liability, for parties not found to have "knowingly" committed violations; and required courts to assess whether all parties complied with Rule 11 of the Federal Rules of Civil Procedure, prohibiting frivolous legal filings.
Although I supported the Reform Act's goals, I vetoed the Act because I was concerned that it would erect procedural barriers and keep wrongly injured persons from having their day in court. In particular, I objected to certain statements in the 1995 Conference Report's Statement of Managers that created ambiguity with respect to whether the bill was adopting the pleading standard in private securities fraud cases of the U.S. Court of Appeals for the Second Circuit—the highest pleading standard of any Federal circuit court and a standard that I support. When the bill returned to the House and Senate floors after my veto, the bill's supporters made clear that they did in fact intend to codify the Second Circuit standard. After this important assurance, the bill passed over my veto.
Since passage of the Reform Act, there has been considerable concern that the goals of the Reform Act have not been realized. In particular, there was testimony that firms are not using the Federal safe harbor for forward-looking statements because they fear State court litigation over the same representations that are protected under Federal law. In addition, concerns have been raised that State actions are being used to achieve an "end run" around the Reform Act's stay of discovery.
In signing the Uniform Standards Act, I do so with the understanding, as reflected in the Statement of Managers for this legislation and numerous judicial decisions under the Reform Act adopting the pleading standard of the Second Circuit, that investors with legitimate complaints meeting the Second Circuit pleading standard will have access to our Nation's courts. This point was critical to my veto of the Reform Act in 1995; it was reaffirmed before ultimate passage of the 1995 Act over my veto; and its assurance was a prerequisite to my signing this legislation today, as indicated in the April 28, 1998, letter from my staff to Chairman D'Amato, Senator Gramm, and Senator Dodd. Since the uniform standards provided by this legislation state that class actions generally can be brought only in Federal court, where they will be governed by Federal law, clarity on the Federal law to be applied is particularly important. The Statement of Managers confirms that the Second Circuit pleading standard will be the uniform standard for pleading securities fraud. Thus, the uniform national standards contained in this bill will permit investors to continue to recover losses fairly attributable to reckless misconduct. I am aware of and agree with the expert views on this issue of the Securities and Exchange Commission (SEC), which, along with my staff, worked hard in shaping this legislation.
With these assurances in the Statement of Managers that reckless conduct will continue to be actionable and that complaints meeting the Second Circuit pleading standard will permit investors access to our Nation's courts, I believe that the uniform national standards created by this bill will generate meaningful information for investors and further reduce frivolous litigation without jeopardizing the critically important right of defrauded investors to obtain relief.
I do, however, object to one provision in this bill. Section 203 provides separate authority for job classification and pay of SEC economists. This provision was added to the bill at the last minute without any time for review or comment. There is no justification to treat SEC economists differently from other Federal employees. With that one exception, I am pleased to sign the Securities Litigation Uniform Standards Act of 1998 into law.
WILLIAM J. CLINTON
The White House, November 3, 1998.
NOTE: S. 1260, approved November 3, was assigned Public Law No. 105-353.
William J. Clinton, Statement on Signing the Securities Litigation Uniform Standards Act of 1998 Online by Gerhard Peters and John T. Woolley, The American Presidency Project https://www.presidency.ucsb.edu/node/224971