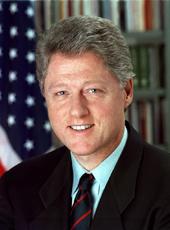 Statement on Signing the Open-market Reorganization for the Betterment of International Telecommunications Act
Today I have signed into law S. 376, the "Open-market Reorganization for the Betterment of International Telecommunications Act." S. 376 amends the Communications Satellite Act of 1962 to establish a statutory framework for the privatization of the International Telecommunications Satellite Organization (INTELSAT) and the International Mobile Satellite Organization (Inmarsat).
In partnership with the Congress, my Administration has worked aggressively over the last 6 years to promote the pro-competitive privatization of these intergovernmental satellite organizations. As a result of our efforts and changing commercial conditions, in 1995, Inmarsat spun off new business activities into a private United Kingdom (U.K.) corporation, ICO Global Communications Ltd., and, in 1999, Inmarsat privatized its remaining business activities as a U.K. corporation. In 1998, INTELSAT spun off five satellites into a private Netherlands corporation, New Skies Satellites, N.V. And last October, INTELSAT's 143 member governments agreed to fully privatize by early 2001.
My Administration's goal is to ensure that a privatized INTELSAT will compete fairly and fully with other international telecommunications companies, thus benefiting consumers through greater innovation, lower prices, and more service options. Fair competition requires a level playing field; INTELSAT must not retain advantages that result from its former intergovernmental status or that are unavailable to other satellite competitors, including any preferential access to orbital slots or foreign markets. But neither should INTELSAT (or the already privatized Inmarsat and New Skies) have to face barriers to the U.S. market erected by competitors who want to limit competition here. Full competition means that INTELSAT should be privatized in a way that allows it to provide the full range of telecommunications services, including value-added services to end users, as well as wholesale satellite capacity to communications providers (its current role). That means allowing INTELSAT to compete robustly against all other service providers in this rapidly growing industry.
My Administration intends to pursue INTELSAT's privatization in a manner that is compatible with this Nation's international obligations and with our interests in a competitive global international telecommunications environment. Accordingly, the United States will continue to engage the other 142 member countries of INTELSAT in cooperative multilateral negotiations to achieve these goals.
Several provisions of S. 376 could interfere with the President's constitutional authority to conduct the Nation's foreign affairs by directing or burdening the President's negotiations with foreign governments and international organizations. Specifically, new sections 621 and 661 of the Communications Satellite Act of 1962 purport to direct the executive branch on how to proceed in foreign negotiations, and new sections 625(c), 644(b), and 647 purport to require the executive branch to take particular positions in international organizations. The President's constitutional authority over foreign affairs necessarily entails discretion over these matters, and I will therefore construe these provisions as advisory. To avoid similar constitutional difficulties, I will construe section 602(b) as not requiring the United States to take particular positions in international organizations.
The President has the authority to conduct U.S. international trade policy and to interpret international treaty obligations, such as those arising under the World Trade Organization (WTO). In this regard and in furtherance of new section 601(c) of the Communications Satellite Act of 1962, the appropriate Federal agencies will advise the Federal Communications Commission on all matters raised by S. 376 concerning interpretation of and compliance with WTO commitments of the United States.
I appreciate the changes that the Congress made to section 3 of this bill, with respect to new section 601(b)(1)(C) of the Communications Satellite Act of 1962. These changes ensure, among other things, continued access by the Department of Defense, other national security agencies, and law enforcement and public health and safety agencies to existing and future Inmarsat and INTELSAT services. To effectively implement that section, the appropriate Federal agency or agencies will provide the Federal Communications Commission with comments on the application of S. 376 to matters related to national security, law enforcement, and protection of public health and safety.
New section 601(a) of the Communications Satellite Act of 1962 deals with the Federal Communications Commission's licensing of "separated entities," i.e., privatized entities to which a portion of INTELSAT's or Inmarsat's assets are transferred before full privatization. In approving S. 376, I state my understanding that section 601(a) will be applied as setting forth only one determination that the Commission must make in issuing a license or other authority to a separated entity. The Commission will continue to be required to make the other findings required by the Communications Act of 1934, including that the Commission apply its public interest review to all those who operate, or wish to operate, as telecommunications carriers. By interpreting section 601(a) in this way, we ensure that this provision is harmonized with the Communications Act. We further ensure that in deciding to issue a license or other authority to a separated entity, the Commission will take into account factors in addition to the impact on competition of the issuance of a license or other authority, such as considerations relating to national security, law enforcement, foreign policy, trade, and public safety.
In addition, in approving S. 376, I state my understanding that section 647 does not limit the Federal Communications Commission from assigning, via competitive bidding, domestic satellite service licenses intended to cover only the United States.
As it has done for the last 6 years, my Administration will consult closely with the Congress as we negotiate with other countries on how INTELSAT should be privatized. My Administration has a clear vision for INTELSAT privatization, one shaped by our overriding concern with benefiting U.S. consumers through increased competition. We will participate aggressively in negotiations to ensure that decisions on privatization promote robust competition and comply with the United States' international treaty obligations.
WILLIAM J. CLINTON
The White House, March 17, 2000.
NOTE: S. 376, approved March 17, was assigned Public Law No. 106-180.
William J. Clinton, Statement on Signing the Open-market Reorganization for the Betterment of International Telecommunications Act Online by Gerhard Peters and John T. Woolley, The American Presidency Project https://www.presidency.ucsb.edu/node/227643