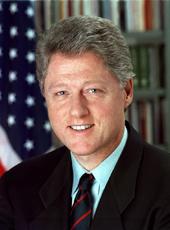 Statement on Signing the Omnibus Consolidated Appropriations Act, 1997
I have signed into law H.R. 3610, the fiscal year 1997 omnibus appropriations and immigration reform bill.
This bill is good for America, and I am pleased that my Administration could fashion it with the Congress on a bipartisan basis. It moves us further down the road toward our goal of a balanced budget while protecting, not violating, the values we share as Americans— opportunity, responsibility, and community.
Specifically, the legislation restores needed funds for education and training, the environment, science and technology, and law enforcement; fully funds my anti-drug and counter-terrorism initiatives; extends the Brady Bill so that those who commit domestic violence cannot buy handguns; provides needed resources to respond to fires in the western part of the Nation and to the devastation brought by Hurricanes Fran and Hortense; and includes landmark immigration reform legislation that cracks down on illegal immigration without punishing legal immigrants.
The bill restores substantial sums for education and training, furthering my agenda of lifelong education to help Americans acquire the skills they need to get good jobs in the new global economy.
It provides the funds through which Head Start can serve an additional 50,000 disadvantaged young children; fulfills my request for the Goals 2000 education reform program, enabling States to more quickly raise their academic standards and implement innovative reform; increases funding for the Safe and Drug-Free Schools program, helping States reduce violence and drug abuse in schools; provides most of my request for the Technology Literacy Challenge Fund to help States leverage technology funds; fulfills my request for Title 1, education for the disadvantaged; and provides the funds to enable well over a half-million young people to participate in the Summer Jobs program.
For college students, I am pleased that the bill fulfills my request for the largest Pell Grant college scholarship awards in history and expands the number of middle- and low-income students who receive aid by 126,000—to 3.8 million. I am also pleased that the bill fully funds my Direct Lending program, enabling more students to take advantage of cheaper and more efficient loans.
For the environment, the bill provides funds to support the Environmental Protection Agency's early implementation of two major new environmental laws that I signed this summer— the Safe Drinking Water Act, and the Pesticide and Food Safety Law. In addition, the bill provides additional funds for energy conservation and to help finish the cleanup of Boston Harbor and help prevent beach closures.
At the same time, the bill does not contain any of the riders that would have affected management of the Tongass National Forest in Alaska, national Native American tribal rights, the Interior Department's management of subsistence fishing in Alaska, long-term management of the Elwha Dam in Washington State, and the issuance of emergency-efficiency standards for appliances. I am, however, disappointed the Congress did not adopt my proposal to repeal the 1995 salvage timber rider and restore the application of environmental laws to salvage logging on Federal lands.
For research and technology, the bill promotes economic growth by continuing needed Federal support for advanced technology. It restores funding for the Commerce Department's Advanced Technology Program, providing resources for new grants to support innovative technology companies across the Nation.
It also provides a sizeable increase for the National Institutes of Health, which will enable NIH to expand its critical research into new ways to treat breast cancer, AIDS, and other diseases. I am also pleased that the bill provides nearly $1 billion for Ryan White AIDS treatment grants, including funds to help States purchase a new class of AIDS drugs called "protease inhibitors" and other life-extending medications. And the Congress also fully funded my request for the Department of Housing and Urban Development's program that provides housing assistance for people with AIDS.
For law enforcement, the bill provides $1.4 billion to ensure that my program to put 100,000 more police on the streets of America's communities by the year 2000 proceeds on schedule; with this bill, we will have provided funding for 64,000 of the 100,000 that I called for at the start of my Administration. The bill also increases funds for Justice Department law enforcement programs, for the FBI's crime-fighting efforts, and for new Federal prisons. As I had urged, the bill also extends the Brady Bill to ensure that those who commit domestic violence cannot purchase guns. Finally, I am pleased that the Congress provided a modest increase for the Legal Services Corporation, which ensures that those who lack the means still have access to our legal system.
I am also pleased that the bill provides a $1.4 billion increase in funding for anti-drug programs. It doubles funding for Drug Courts, increases funds for drug interdiction efforts by the Defense, Transportation, and Treasury Departments, and provides the resources to expand the Drug Enforcement Administration's domestic efforts along the Southwest border and elsewhere. The bill also includes strong language about drug testing that my Administration had proposed, requiring that localities have drugtesting programs in place for their prisoners and parolees in order to qualify for State and local prison grants. And it includes funding for the drug testing of Federal, State, and local arrestees.
For counterterrorism, the bill funds my request for over $1.1 billion to fight terrorism and to improve aviation security and safety. It enables the Justice and Treasury Departments to better investigate and prosecute terrorist acts, and it provides funds to implement the recommendations of Vice President Gore's Commission on Aviation Safety and Security and the Federal Aviation Administration's recent 90-day safety review. These funds will enable us to hire 300 more aviation security personnel, deploy new explosive detection teams, and buy high-technology bomb detection equipment to screen luggage. The bill also gives my Administration the authority to study the use of taggants in black and smokeless powder; taggant technology holds the promise of allowing the detection and identification of explosives material.
I hereby designate as an emergency requirement, as the Congress has already done, the $122.6 million in fiscal 1996 funds and the $230.68 million in fiscal 1997 funds for the Defense Department for antiterrorism, counterterrorism, and security enhancement programs in this Act, pursuant to section 251(b)(2)(D)(I) of the Balanced Budget and Emergency Deficit Control Act of 1985, as amended.
This bill also funds the Nation's defense program for another year; it fully funds my defense antiterrorism and counter-narcotics efforts as well as the Cooperative Threat Reduction program, and at my insistence it provides a substantial amount of the funding for my dual-use technology program. But it also provides about $9 billion more than I proposed for defense, including a substantial amount for weapons that are not even in the Defense Department's future plans and were not requested by the service chiefs. This bill is part of a plan by the majority in the Congress that adds funds for investments now and reduces them in the future. I continue to believe that my long-range plan is more rational. It provides sufficient funds now while increasing them at the turn of the century when new technologies will become available.
I am pleased that the Congress has provided the minimum acceptable levels for certain key international affairs programs, such as the U.S. contribution to the International Development Association and the Korean Peninsula Energy Development Organization and for international peacekeeping operations and arrears. I also commend the Congress for providing at least a modest increase in funding international family planning programs and for dropping misguided Mexico City restrictions, and for funding bilateral economic assistance without rescinding prioryear appropriations. In addition, the Congress has facilitated the Middle East peace process by authorizing U.S. participation in the Middle East Development Bank. Nevertheless, I must note that the overall funding level for international affairs programs is well below what we need to assure that we can achieve our foreign policy objectives.
This bill, however, does more than fund major portions of the Government for the next fiscal year. It also includes landmark immigration reform legislation that builds on our progress of the last 3 years. It strengthens the rule of law by cracking down on illegal immigration at the border, in the workplace, and in the criminal justice system—without punishing those living in the United States legally.
Specifically, the bill requires the sponsors of legal immigrants to take added responsibility for their well-being. And it does not include the so-called Gallegly amendment, which I strongly opposed and which would have allowed States to refuse to educate the children of illegal immigrants. At my insistence the bill does not include the proposed onerous provisions against legal immigrants, which would have gone beyond the welfare reform law.
I am pleased that the Congress provided 7 additional months of food assistance for needy immigrants, including benefits for many elderly and children. This step will provide some help to individuals and States in preparing for the dramatic restriction of access to benefits that legal immigrants will face under the welfare reform bill.
I am, however, extremely concerned about a provision in this bill that could lead to the Federal Government waiving the Endangered Species Act and the National Environmental Policy Act in order to expeditiously construct physical barriers and roads on the U.S. border. I know the Attorney General shares my commitment to those important environmental laws and will make every effort, in consultation with environmental agencies, to implement the immigration law in compliance with those environmental laws. I am also concerned about a provision that imposes a new "intent requirement" in unfair immigration-related employment cases that could place hardships on some U.S. citizens and permanent residents. I have asked the Attorney General to take steps to alleviate any potential discrimination that this provision causes against U.S. citizens and authorized workers—particularly Hispanics and Asian-Americans who, by their appearance or accent, may appear to be foreign. Finally, I will seek to correct provisions in this bill that are inconsistent with international principles of refugee protection, including the imposition of rigid deadlines for asylum applications.
The bill also makes important changes in the Nation's banking laws. It assures the continued soundness of the bank and thrift deposit insurance system, and it includes significant regulatory relief for financial institutions. At my insistence, the bill does not erode the protection of consumers and communities.
I commend Senators Baucus and Bingaman for raising the awareness of the issue of the proper accounting of highway trust fund receipts. In next year's reauthorization of the Intermodal Surface Transportation and Efficiency Act, my Administration will rely on a baseline that treats all States fairly and equitably.
The bill includes a Government-wide program to enable agencies to offer buyouts, through December 31, 1997, of up to $25,000 to employees eligible for early or regular retirement. Many of these workers stay on for years after they can retire, so buyouts will serve as an incentive for them to leave. Buyouts are an important tool to help Federal managers downsize their agencies as we continue to move toward a balanced budget—without relying solely on reductions-in-force (RIFs).
I am disappointed that one of my priorities— a ban on physician "gag rules"—was not included. Several States have passed similar legislation to ensure that doctors have the freedom to inform their patients of the full range of medical treatment options, and I am disappointed that the Congress was not able to reach agreement on this measure.
Nevertheless, this bill is good for America. As I have said, it moves us down the path toward a balanced budget while protecting our values. It provides the needed resources to fight domestic and international terrorism. And it cracks down on illegal immigration while protecting legal immigrants.
I am pleased to sign it.
WILLIAM J. CLINTON
The White House, September 30, 1996.
NOTE: H.R. 3610, approved September 30, was assigned Public Law No. 104-208. This statement was released by the Office of the Press Secretary on October 1.
William J. Clinton, Statement on Signing the Omnibus Consolidated Appropriations Act, 1997 Online by Gerhard Peters and John T. Woolley, The American Presidency Project https://www.presidency.ucsb.edu/node/221661