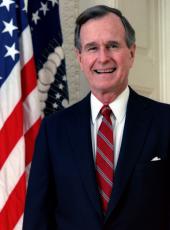 Statement on Signing the Oil Pollution Act of 1990
I am today signing into law H.R. 1465, the "Oil Pollution Act of 1990." In May 1989 the Administration sent its comprehensive oil pollution liability and compensation legislation to the Congress in the wake of the worst marine environmental disaster this Nation has ever experienced. During this disaster 11 million gallons of oil spilled into the waters of Prince William Sound, Alaska. Since then, California, the Gulf of Mexico, the Mid-Atlantic, and New England have suffered serious oil spills.
In most respects, the Oil Pollution Act of 1990 is a responsible piece of legislation. Most important, the prevention, response, liability, and compensation components fit together into a compatible and workable system that strengthens the protection of our environment.
The Act addresses the wide-ranging problems associated with preventing, responding to, and paying for oil spills. It does so by creating a comprehensive regime for dealing with vessel and facility-caused oil pollution. It provides for greater environmental safeguards in oil transportation by: setting new standards for vessel construction, crew licensing, and manning; providing for contingency planning; enhancing Federal response capability; broadening enforcement authority; increasing penalties; and authorizing multi-agency research and development. A one billion dollar trust fund will be available to cover cleanup costs and damages not compensated by the spiller, whose financial responsibility requirements are significantly increased.
Although I am approving this legislation, I deeply regret the Act's inclusion of an unrelated provision that would place a moratorium on exploration for oil and natural gas off the coast of North Carolina. This area, located over 38 miles offshore, is the largest potential natural gas field east of the Mississippi and could be used to offset our dependence on foreign energy sources. Much work has been done to address my environmental concerns related to exploration in this area -- and it should be noted that exploration for gas this far offshore carries little environmental risk. It is shortsighted to restrict exploration for this relatively clean energy source, especially in light of our recent efforts to accommodate national and State concerns regarding the environmental effects of energy exploration and development. Such a moratorium is ill-advised in view of recent events in the Persian Gulf, where I have found it necessary to deploy American soldiers 7,000 miles from home to protect our vital national interests. The moratorium contained in H.R. 1465 is highly objectionable, and my Administration will seek to repeal it.
In addition, H.R. 1465 does not implement the 1984 Protocols to the 1969 Civil Liability Convention and the 1971 Fund Convention. These oil spill treaties, if ratified, would provide our Nation with swift and assured compensation for foreign tanker oil spills and access to up to $260 million per spill from an international fund. Our failure to ratify the Protocols may weaken long-standing U.S. leadership in the development of international maritime standards.
Ultimately, the threat of oil pollution is a global challenge, and the solutions we devise must be broad enough to address the needs of all nations. Therefore, I urge the Senate to give immediate consideration to the international Protocols and give its advice and consent to ratification of these treaties.
I am concerned about another consequence of the failure to ratify the Protocols. We must work to ensure that, in response to the provisions of this Act, a situation is not created in which larger oil shippers seeking to avoid risk are replaced by smaller companies with limited assets and a reduced ability to pay for the cleanup of oil spills. We will need to monitor developments in order to protect against such undesirable consequences.
The oil industry faces many new requirements as a result of this legislation. These requirements include substantially increased financial responsibility; preparation of contingency plans; and the replacement of fleets with safer oil tankers. A balance has been sought to give the industry the flexibility to meet the requirements of the Act without incurring excessive costs.
Finally, I note that section 3004 of the bill could be construed to infringe on my constitutional authority over the conduct of diplomacy by requiring me to take certain actions with respect to international organizations. I shall construe this section consistently with the Constitution and therefore shall regard it as advisory.
In signing this landmark Act, I pledge the support of the Administration for the Oil Pollution Act of 1990, notwithstanding the concerns that I have addressed. This represents a continuation of my Administration's efforts to work with the Congress and other nations to protect the Earth's environment.
George Bush
The White House,
August 18, 1990.
Note: H.R. 1465, approved August 18, was assigned Public Law No. 101 - 380.
George Bush, Statement on Signing the Oil Pollution Act of 1990 Online by Gerhard Peters and John T. Woolley, The American Presidency Project https://www.presidency.ucsb.edu/node/265241