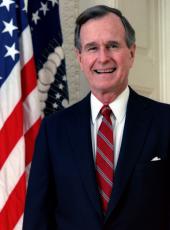 Statement on Signing the National Defense Authorization Act for Fiscal Years 1990 and 1991
Today I have signed into law H.R. 2461, the "National Defense Authorization Act for Fiscal Years 1990 and 1991." This Act authorizes appropriations for Department of Defense and Department of Energy national security activities, and other programs.
H.R. 2461 authorizes appropriations that provide a national defense sufficient to meet foreseeable threats to the national security during FY 1990. It generally conforms to the Bipartisan Budget Agreement and reflects a substantial number of the Administration's defense priorities, including the termination of lower-priority defense procurement programs.
I have signed this bill notwithstanding the reservations that I have with certain of its provisions. I am particularly concerned about those provisions that derogate from the President's authority under the Constitution to conduct our foreign policy, including negotiations on behalf of the United States. Examples include requirements that I attempt to persuade our NATO partners to increase their active-duty forces in Europe (section 912) and that I seek Japanese agreement to offset in some way U.S. costs of deploying forces to defend Japan (section 913). In addition, sections 815 and 816 seek to impose congressional policy choices upon the President's constitutional discretion to negotiate and implement foreign agreements governing various aspects of defense procurement. While, as a policy matter, I will always endeavor to consult with the Congress on such foreign policy issues, I am obliged, as a constitutional matter, to defend the constitutional authority of the Presidency against efforts to legislate foreign policy. Accordingly, I shall interpret such provisions so as not to constrain the constitutional primacy of the President in that arena.
Several provisions of H.R. 2461 could be read as directing me to disclose the details of foreign policy negotiations, notwithstanding the President's constitutional authority to control such information. Examples include the requirements that I report to the Congress on the status of negotiations with our allies on the Strategic Defense Initiative (section 224), with Japan on the cost of U.S. forces defending Japan (section 913), and with the Philippines on U.S. military installations in the Philippines (section 915). I shall interpret such provisions so as not to impose unconstitutional disclosure requirements upon information relating to negotiations with foreign nations or other privileged information.
Several reporting or consultation provisions of H.R. 2461 could be read to encroach upon the President's constitutional authority to protect national security information. For example, section 903 calls for a report on the measures that would be required to verify certain proposed conventional force reductions in Europe, and section 216 calls for a report on our intelligence estimates on future Soviet tank production and operational capacities. I shall interpret provisions like these so as not to impose unconstitutional constraints upon my authority to protect sensitive national security information.
Several provisions of H.R. 2461 could be read as limiting the deployment of military personnel. For example, section 912 would limit the active-duty forces I deploy in Europe; while that section authorizes me to waive its provisions if I determine the waiver is critical to the national security, I do not believe my discretion to deploy military personnel may be subject to such a statutory standard. In addition, section 921 would restrict my ability to relocate to other locations the Defense Department personnel located at an air base in Spain. While I will respect the intent of such provisions as far as possible, I sign this bill with the understanding that they do not constrain my authority to deploy military personnel as necessary to fulfill my constitutional responsibilities as President and Commander in Chief.
Sections 136 and 165(b) give the force of law to portions of a classified annex to the joint statement of managers accompanying the House-Senate conference report on H.R. 2461. However, the classified annex language at issue did not accompany H.R. 2461 when it was presented to me for approval. Under the Constitution, the material terms of legislation must be fixed and available at the time of presentment. Only then does the President have the opportunity to exercise his constitutional prerogatives. Since this is not the case with sections 136 and 165(b), I shall treat them as unenacted and severable from the balance of H.R. 2461.
Finally, I note that H.R. 2461 calls for a multiplicity of reports and studies. Many are quite complex and are required to be submitted within very short periods of time; indeed, at least one is required to have been completed prior to presentment of the bill. While it is easy to require such reports, it must be recognized that their preparation consumes large quantities of precious resources. Accordingly, I call on the Congress to exercise greater restraint in the future.
George Bush
The White House,
November 29, 1989.
Note: H.R. 2461, approved November 29, was assigned Public Law No. 101 - 189.
George Bush, Statement on Signing the National Defense Authorization Act for Fiscal Years 1990 and 1991 Online by Gerhard Peters and John T. Woolley, The American Presidency Project https://www.presidency.ucsb.edu/node/263882