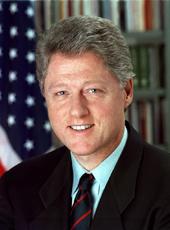 Statement on Signing the National Defense Authorization Act for Fiscal Year 1996
Today I have signed into law S. 1124, the "National Defense Authorization Act for Fiscal Year 1996." This Act authorizes appropriations for Department of Defense military activities, including military construction, and defense activities of the Department of Energy. It also provides, extends, or amends various authorities relating to national defense programs and activities.
I vetoed the original version of this legislation, H.R. 1530, on December 28, 1995. Since that time, the Congress has addressed my three central national security concerns about the earlier bill. First, the Congress deleted the provisions requiring deployment by 2003 of a costly missile defense system designed to defend against a long-range missile threat, which our intelligence community does not foresee in the next decade. Such a course of action would have prevented us from deploying the best possible technology if a real threat were to emerge at a later time. Moreover, implementation of the system called for in H.R. 1530 would probably have been inconsistent with the Anti-Ballistic Missile Treaty.
Second, the Congress deleted the requirement that the President submit a supplemental appropriations request within a defined time period after commencement of certain contingency and other operations, such as the ongoing military operations in Bosnia. The Act does, however, continue to contain unwarranted restrictions on the manner in which such operations may be funded.
Third, the Congress deleted the restriction on the President's authority to make and implement decisions relating to the operational or tactical control of elements of the U.S. armed forces, a restriction which clearly infringed on the President's constitutional authority as Commander in Chief.
The Act also includes a number of provisions of great importance to our national defense and to the men and women in our armed forces, authorizing critical defense programs to be continued and new ones to be initiated. The Act authorizes the full 2.4% increase in pay and allowances for our military personnel. It authorizes the Military Housing Privatization Initiative, which provides new authority to acquire and improve military housing and supporting facilities through the use of private expertise and capital. It authorizes necessary military construction and NATO infrastructure programs. It continues the Department of Energy's sciencebased Stockpile Stewardship program. It provides for the sale of the Elk Hills Naval Petroleum Reserve.
The Act also contains the Administration's proposal to allow the United States to extradite indicted war criminals and provide evidence directly to the International War Crimes Tribunals for the Former Yugoslavia and Rwanda—a provision that should encourage others to cooperate fully with the War Crimes Tribunal.
And, this legislation makes important strides in the area of procurement reform, which will help produce a better-equipped military for less money. The legislation gives agencies enhanced authority and flexibility in their use of computers and telecommunications, while insisting on accountability. Consistent with the Administration's efforts under the National Performance Review to create a government that works better and costs less, the Act encourages agencies to adopt the best practices of successful companies in the private sector. And the Act includes measures to facilitate the purchase of commerciallyavailable goods and services, to streamline and clarify procurement integrity laws, and to substantially improve the process for resolving bid protests for information technology.
All of these measures are important to the effective and efficient operation of our armed forces. I regret, however, that this legislation continues to contain a number of provisions, identified in my earlier veto message, that will adversely affect the Defense Department's ability to carry out its national defense mission.
First, I am strongly opposed, as is the Department of Defense, to the provision requiring the discharge of military personnel living with the Human Immunodeficiency Virus (HIV), where such discharge is not required by any medical, public health, or military purpose. This provision is blatantly discriminatory and highly punitive to service members and their families. People living with HIV can and do lead full and productive lives, provide for their families, and contribute to the well-being of our Nation. The men and women affected by this provision are ready, willing and able to serve their country with honor and should be allowed to continue to do so.
Therefore, I strongly support the current efforts in the Congress to repeal this provision before a single service member is discharged from the armed forces.
Moreover, the Secretary of Defense and the Chairman of the Joint Chiefs of Staff have advised me that the arbitrary discharge of these men and women would be both unwarranted and unwise; that such discharge is unnecessary as a matter of sound military policy; and that discharging service members deemed fit for duty would waste the Government's investment in the training of these people and would be disruptive to the military programs in which they play an integral role.
I agree.
Consequently, I have concluded that this discriminatory provision is unconstitutional. Specifically, it violates equal protection by requiring the discharge of qualified service members living with HIV who are medically able to serve, without furthering any legitimate governmental purpose. As President Franklin D. Roosevelt said in 1943, explaining his decision to sign an important appropriations bill notwithstanding the fact that it contained a provision that infringed upon individual rights, "I cannot . . . yield without placing on record my view that this provision is not only unwise and discriminatory, but unconstitutional."
In accordance with my constitutional determination, the Attorney General will decline to defend this provision. Instead, the Attorney General will inform the House and Senate of this determination so that they may, if they wish, present to the courts their argument that the provision should be sustained.
Further, to mitigate any unfair burden that this legislation could place on these service members and their families pending any repeal or judicial invalidation, I have directed the Secretaries of Defense, Veterans Affairs, and Transportation, in carrying out the provisions of this Act, to take all steps necessary to ensure that these service members receive the full benefits to which they are entitled—including, among other things, disability retirement pay, health care coverage for their families and transition benefits such as vocational education.
I am troubled by another provision in this Act, which restricts the ability of service women and military dependents to obtain privatelyfunded abortions in military facilities overseas. I remain firmly opposed to this provision. In many countries, these U.S. facilities provide the only accessible safe source for these medical services. I will support congressional efforts to repeal this and a similar provision that became law in the "Department of Defense Appropriations Act, 1996."
Finally, I note that section 1404 of the Act expresses the sense of the Congress that the Secretary of Defense should not take any steps toward dismantling or retiring specific strategic nuclear delivery systems until the START II Treaty enters into force, and it prohibits obligating or expending funds in fiscal year 1996 for such steps. Reading the provisions of section 1404 together, I interpret the section to prohibit obligations or expenditures only before the START II Treaty enters into force. The explanation of Section 1404 in the conference report supports this interpretation.
WILLIAM J. CLINTON
The White House,
February 10, 1996.
NOTE: S. 1124, approved February 10, was assigned Public Law No. 104-106.
William J. Clinton, Statement on Signing the National Defense Authorization Act for Fiscal Year 1996 Online by Gerhard Peters and John T. Woolley, The American Presidency Project https://www.presidency.ucsb.edu/node/222768