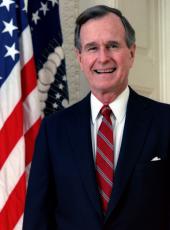 Statement on Signing the National Defense Authorization Act for Fiscal Year 1991
Today I have signed into law H.R. 4739, the "National Defense Authorization Act for Fiscal Year 1991." This Act authorizes appropriations for Department of Defense and Department of Energy national security activities and extends and amends other programs. This Act, which reflects most of the Administration's major defense priorities, will provide for a strong national defense during fiscal year 1991.
I have signed this Act notwithstanding the reservations that I have regarding certain of its provisions. I am particularly concerned about those provisions that derogate from the President's authority under the Constitution to conduct U.S. foreign policy, including negotiations with other countries. One such provision is section 1455, which purports to require the President to begin negotiations with Japan on an agreement under which Japan would offset U.S. costs associated with the presence of our military personnel in Japan. Another is section 1702, which could be construed as requiring the Secretary of State to negotiate with foreign countries regarding restricting the export of certain goods and technology. A third is section 2802, which purports to require the President to seek to place certain questions concerning basing of the 401st Tactical Fighter Wing on the agenda of the next meeting of NATO's North Atlantic Council. Consistent with my responsibility under the Constitution for the conduct of negotiations, I will construe all these provisions to be precatory rather than mandatory.
I am concerned, as well, about certain provisions regarding the Strategic Defense Initiative. The earmarking of funds, in combination with a funding level that is $1.8 billion below the amount requested, unduly restricts the flexibility necessary for sound management and virtually guarantees that funds will be redirected away from the most promising technologies. I note also that section 221 contains criteria for conducting Strategic Defense Initiative research and development that might be construed as a constraint on the President's authority to interpret treaties. I sign this Act with the understanding that the Congress did not intend that obligation of funds for the ground-based interceptors and sensor identified in the conference report on H.R. 4739 be dependent on a determination at this time that these systems are deployable under the ABM Treaty.
Several provisions might be construed to impinge on the President's authority as Commander in Chief and as the head of the executive branch. Thus, section 1455 purports to impose a limit on the number of military personnel stationed in Japan, and section 406 purports to do the same with respect to military personnel stationed in Europe. Section 1455 permits a waiver of the limit should I determine that the national security requires it and I so notify the Congress. Section 406 permits a waiver under similar conditions, but limits the number of additional personnel that may be assigned. I shall construe these provisions consistent with my authority to deploy military personnel as necessary to fulfill my constitutional responsibilities.
A number of provisions regarding the reserve forces are of concern. Section 903 purports to require assignment of all Army Reserve operational forces to U.S. Forces Command, with no specific provisions for the Secretary of Defense to direct other assignments, including those assignments already made to unified or specified commands. Sections 1436 to 1438 establish certain standards for the allocation of aircraft to Naval Reserve, Air Force Reserve and Air National Guard units, as well as requiring assignment of the tactical airlift mission to the Air Force Reserve and Air National Guard. I shall construe these provisions consistent with my authority as Commander in Chief to deploy the Armed Forces as I see fit.
Although this Act eliminates a large number of reports to the Congress, it still imposes on the Department of Defense reporting requirements that are an unnecessary burden on its resources. In addition, certain reporting provisions raise national security concerns. Sections 1461 and 1482 purport to require prior notice to the Congress regarding initiation of, or classification changes in, special access programs. I shall construe these provisions consistent with my constitutional authority to protect sensitive national security information.
In addition, section 1409(a) refers to a classified annex that was prepared to accompany the conference report on this Act and states that the annex "shall have the force and effect of law as if enacted into law." The Congress has thus stated in the statute that the annex has not been enacted into law, but it nonetheless urges that the annex be treated as if it were law. I will certainly take into account the Congress' wishes in this regard, but will do so mindful of the fact that, according to the terms of the statute, the provisions of the annex are not law.
The Constitution empowers the President to "recommend to [Congress] such Measures as he shall judge necessary and expedient." U.S. Const. Art. II, Sec. 3. Section 1009 raises constitutional difficulties by purporting to require the submission of a report on Andean anti-drug efforts that includes specific legislative proposals. The executive branch has consistently treated provisions of this type as advisory rather than mandatory, and to avoid a constitutional question will so construe this provision.
Finally, I am concerned that several provisions of the Act that deal with the management of real property, especially in the area of rental space and specified disposals, circumvent the provisions of, or regulations related to, the Federal Property and Administrative Services Act of 1949. Generally, effective and efficient management of such real property matters is best accomplished in accordance with the Property Act.
George Bush
The White House,
November 5, 1990.
Note: H.R. 4739, approved November 5, was assigned Public Law No. 101 - 510.
George Bush, Statement on Signing the National Defense Authorization Act for Fiscal Year 1991 Online by Gerhard Peters and John T. Woolley, The American Presidency Project https://www.presidency.ucsb.edu/node/265574