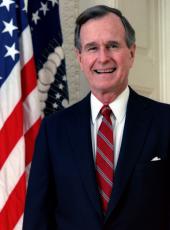 Statement on Signing the National Aeronautics and Space Administration Authorization Act, Fiscal Year 1993
Today I am signing into law H.R. 6135, the "National Aeronautics and Space Administration Authorization Act, Fiscal Year 1993." Our civil space program is a major contributor to this Nation's status as a world leader. H.R. 6135 authorizes the continuation of space research and technology programs that are vital to the future of our country and its ability not only to remain competitive in today's technological world, but also to be the leader. I proposed these programs to the Congress because I was convinced that the United States must not relinquish its leadership role in space. The world continues to look to us in space exploration, and also in global environmental monitoring, aeronautics, materials, propulsion, and life sciences, among other areas. The Congress has endorsed these initiatives by passage of H.R. 6135.
I am particularly pleased that this Act continues Space Station Freedom and the Earth Observing System, at close to the funding level I proposed. The Space Station is absolutely vital to the continued exploration and understanding of our next frontier. The Earth Observing System is of critical importance to the understanding of our home planet and the environmental changes it may be undergoing.
I regret that the Congress chose to reduce substantially the funding for certain important initiatives -- a new launch system, the National Aero-Space Plane, and the Space Exploration Initiative.
This Act also authorizes funds for the National Space Council, the Department of Transportation's Office of Commercial Space Transportation, and the Department of Commerce's Office of Space Commerce. These offices provide important guidance and support in the development and implementation of our space policies.
In connection with the establishment of an Earth Observing System program, the Act requires the Administrator of the National Aeronautics and Space Administration (NASA) to carry out a program of earth observation "that addresses the highest priority international climate change research goals as defined by the Committee on Earth and Environmental Sciences and the Intergovernmental Panel on Climate Change." Because the members of the Intergovernmental Panel on Climate Change -- jointly formed by the United Nations Environmental Programme and the World Meteorological Organization -- are not appointed in conformity with the Appointments Clause of the Constitution, Article II, section 2, clause 2, they may not exercise significant governmental power under the laws of the United States. Accordingly, I sign this bill with the understanding that any future work of the Intergovernmental Panel on Climate Change shall be treated as advisory and that the Administrator of NASA shall retain authority to determine the scope and content of the Federal program.
George Bush
The White House,
November 4, 1992.
Note: H.R. 6135, approved November 4, was assigned Public Law No. 102 - 588.
George Bush, Statement on Signing the National Aeronautics and Space Administration Authorization Act, Fiscal Year 1993 Online by Gerhard Peters and John T. Woolley, The American Presidency Project https://www.presidency.ucsb.edu/node/267648