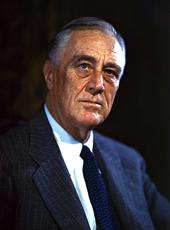 Statement on Signing the Motor Carrier Act.
The Motor Carrier Act which the President signed today provides the first regulation of such carriers undertaken by the Federal Government. It applies to all common and contract carriers engaged in the interstate transportation of passengers or property, but, except in one important particular, exempts vehicles used exclusively in carrying livestock, fish, or agricultural commodities or in the distribution of newspapers. There is a specific exemption of vehicles controlled and operated by farm cooperative associations. Persons who engage only casually or occasionally in transporting passengers or property for compensation and carriers which operate only within metropolitan areas are conditionally exempted. Regulation is also provided for brokers, or those who arrange for transportation but do not themselves provide motor transportation service.
The Act requires common carriers to secure certificates of public convenience and necessity before they may operate, but these are given as of right to such carriers as were in bona fide operation on June 1, 1935. Contract carriers are to secure permits, but those in operation on July 1, 1935, may receive such permits upon application and a showing of bona fide operation. Brokers must secure a license, requiring, among other things, adequate proof of financial responsibility.
Common carriers are required to establish just and reasonable rates and are forbidden to discriminate in their rates or service. Their rates may be regulated as to both maximum and minimum. In keeping with the different character of their operations, contract carriers are subject to only minimum rate regulation. Considerable latitude is given in the regulation of such carriers.
Other matters made subject to regulation are the consolidation or merger of properties, the issuance of securities, and the financial responsibility of the operators. Appropriate reports may be required from motor carriers and brokers and their accounts may be prescribed.
All carriers, including those which are otherwise exempted, are made subject to regulation with respect to the qualifications and maximum hours of service of their employees and the safety of their operations and equipment.
The administration of the regulation provided in this act is entrusted to the Interstate Commerce Commission, but provision is made for extensive utilization of the trained personnel of the States through the use of joint boards to be created, generally, from the membership of the State Commissions. The act provides assurance against interference with the exercise by the States of full authority over intra-state transportation.
The Act becomes effective October 1st, but the Commission may postpone the effective date of any of its provisions to a time not later than April 1, 1936.
Franklin D. Roosevelt, Statement on Signing the Motor Carrier Act. Online by Gerhard Peters and John T. Woolley, The American Presidency Project https://www.presidency.ucsb.edu/node/209000