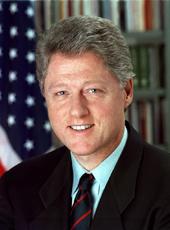 Statement on Signing the Minority Health and Health Disparities Research and Education Act of 2000
Today I am pleased to sign into law S. 1880, the "Minority Health and Health Disparities Research and Education Act of 2000." This Act will enhance biomedical and behavioral research on minority health and health disparities, support medical training for minorities and others, and improve the study and collection of data regarding minorities and other populations.
This important legislation builds on the work of my Administration, particularly the efforts of the Secretary of Health and Human Services (HHS), Donna Shalala, to develop a truly national commitment to end disparities in health through research, training, and data gathering. Under Secretary Shalala, HHS committed to eliminate disparities in health by race and ethnicity by the year 2010. Eliminating disparities will require additional research and new approaches, but in the process of addressing the health needs of our most vulnerable populations, we will improve the Nation's health care system for everyone. This Act was made possible through the bipartisan efforts of the Congress; a multiracial coalition of leaders in public health, business, education, and charitable foundations; and my Administration.
The Act creates a National Center on Minority Health and Health Disparities at the National Institutes of Health (NIH). This Center will fund research programs on health disparities and minority health; support training of members of health disparity populations as researchers; and provide education loan relief for health professionals who commit themselves to perform health disparities research. The Center will also coordinate all NIH research efforts in this area. The Center promises to help all Americans who bear the burden of health disparities regardless of their race, ethnicity, gender, socioeconomic status, or geographic location.
This legislation also authorizes the Agency for Healthcare Research and Quality to conduct and support activities and research to measure health disparities and identify causes and remedies. In addition, it authorizes the Health Resources and Services Administration to support research and demonstration projects to train health professionals on reducing health care disparities.
I would like to thank many individuals who helped develop and pass this landmark law, particularly Senators Kennedy, Frist, Jeffords, and Hatch, as well as Representatives Thompson, Lewis, Jackson, Jr., Watts, Norwood, Strickland, Brown, Bilirakis, Christensen, Towns, Rodriguez, Underwood, and Roybal-Allard. I also would like to acknowledge the diligent efforts of Secretary Shalala; David Satcher, the Surgeon General; Ruth Kirschstein, Principal Deputy Director of NIH; and the many others who worked tirelessly to bring this legislation forward.
The elimination of health disparities will require a comprehensive effort, involving both the Federal Government and the private sector. The Federal Government must continue to make measurable progress against diseases and conditions that are major contributors to health disparities, and our commitment to health disparities research must ensure that new knowledge generated in federally supported laboratories and clinics benefits all of our citizens. We must also ensure that there is a diverse health care and research workforce in the future by making efforts to attract and train a generation of scientists and health care professionals who are prepared to dedicate themselves to helping eliminate health disparities.
WILLIAM J. CLINTON
The White House, November 22, 2000.
NOTE: S. 1880, approved November 22, was assigned Public Law No. 106-525.
William J. Clinton, Statement on Signing the Minority Health and Health Disparities Research and Education Act of 2000 Online by Gerhard Peters and John T. Woolley, The American Presidency Project https://www.presidency.ucsb.edu/node/228271