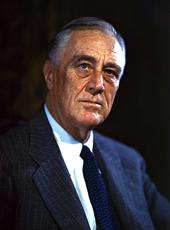 Statement on Signing the Joint Resolution for Mr. Justice Holmes.
It gives me special gratification to approve this Joint Resolution (S.J. Res. 258).
As a younger man it was my privilege to enjoy the friendship of Mr. Justice Holmes in that period of tranquillity when, although an old man according to the calendar, the Justice was yet in the prime of his powers. When I returned to Washington, one of my first acts was to visit Mr. Justice Holmes, who had then become a venerable sage, and to draw strength from his stout heart, in those awful March days of 1933. He was, of course, a man of superlative gifts, and his achievements in law and literature form an enduring part of the spiritual treasury of our country.
But transcending every other contribution is the example that Oliver Wendell Holmes set as a patriot. Service to country was the thread on which his life was strung. This devotion to his country and faith in its Government were summarized by a final and characteristic act of eloquence in willing the substance of his estate to the United States.
The Joint Resolution now before me provides for the disposition of this bequest. The Congress had heretofore created a committee of nine, composed of three members of the House of Representatives, three members of the Senate and three members of the Supreme Court, to recommend appropriate uses for the Justice's bequest. After carefully canvassing the numerous proposals that were made, the Committee reached the following conclusions:
His [Mr. Justice Holmes'] profound insight in the thought and actions of men, his ability to clothe his thought in English of singular beauty and power, and his long and fruitful judicial service, which has stirred the popular imagination to an exceptional degree, have made his thought and memory the heritage of all men, rather than of any single class or profession. It has, therefore, seemed to the committee most fitting and desirable that the memory of Justice Holmes should be perpetuated, and his life and services symbolized, by making readily available to the public the best expressions of his thought, and by creating at the Nation's Capital, where he spent the last and most influential years of his life, a memorial to be seen of all men, which would in some measure represent the love of beauty and of the quiet open spaces of the city of Washington to which he often gave expression.
The Congress has adopted these recommendations and I heartily approve. In effect, this means the publication by the Government of a memorial volume of the selected writings of Mr. Justice Holmes and the establishment of an Oliver Wendell Holmes Garden in the vicinity of the immediate scene of his labors, the Supreme Court.
March 8, 1941, will be the hundredth anniversary of Mr. Justice Holmes' birth. I hope it may be possible to effectuate this program of Congress as part of the celebration of that centenary.
Franklin D. Roosevelt, Statement on Signing the Joint Resolution for Mr. Justice Holmes. Online by Gerhard Peters and John T. Woolley, The American Presidency Project https://www.presidency.ucsb.edu/node/209292