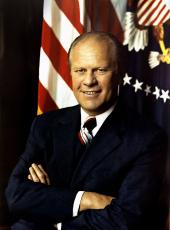 Statement on Signing the International Security Assistance and Arms Export Control Act of 1976.
I HAVE signed into law H.R. 13680, the International Security Assistance and Arms Export Control Act of 1976. This measure authorizes appropriations to carry out security assistance and other programs in the fiscal years 1976 and 1977 and makes extensive changes in the methods, organization, and procedures through which those programs are carried out.
On May 7, 1976, I returned to the Congress without my approval S. 2662, the predecessor of the bill which I am signing today. I did so because that bill contained numerous provisions which would have seriously undermined the constitutional responsibility of the President for the conduct of the foreign affairs of the United States. That bill embodied a variety of restrictions that would have seriously inhibited my ability to implement a coherent and consistent foreign policy and some which raised fundamental constitutional difficulties as well.
The present bill, H.R. 13680, imposes new requirements, restrictions, and limitations on the implementation of security assistance programs. Many of these new requirements are based on congressional desires to increase the flow of information regarding the scope and direction of security assistance programs worldwide. Others impose new substantive restrictions reflecting new policies or policies not heretofore expressed in law.
Most of the unacceptable features of the earlier bill have either been dropped from H.R. 13680 or have been modified into an acceptable form. I am pleased to note, for example, that this bill does not attempt to impose an arbitrary and unwieldy annual ceiling on the aggregate value of Government and commercial arms sales, a ceiling which would have served to hinder, rather than foster, our efforts to seek multilateral restraints on the proliferation of conventional weaponry, and which could have prevented us from meeting the legitimate security needs of our allies and other friendly countries. In addition, the provisions on discrimination and on human rights in this bill go far toward recognizing that diplomatic efforts, rather than absolute statutory sanctions, are the most effective way in which this country can seek further progress abroad in these areas of deep concern to all Americans, and that the executive branch must have adequate flexibility to make these efforts bear fruit.
I am especially pleased to note that with one exception the constitutionally objectionable features of S. 2662, whereby authority conferred on the President by law could be rescinded by the adoption of a concurrent resolution by the Congress, have all been deleted from H.R. 13680.
The manifest incompatibility of such provisions with the express requirements of the Constitution that legislative measures having the force and effect of law be presented to the President for approval and, if disapproved, be passed by the requisite two-thirds majority of both Houses was perhaps the single most serious defect of the previous bill and one which went well beyond security assistance and foreign affairs in its implications. Moreover, such provisions would have purported to involve the Congress in the performance of day-to-day executive functions in derogation of the principle of separation of powers, resulting in the erosion of the fundamental constitutional distinction between the role of the Congress in enacting legislation and the role of the executive in carrying it out.
The one exception to this laudable action is the retention in H.R. 13680 of the "legislative veto" provision regarding major governmental sales of military equipment and services. This is not a new provision, but has been in the law since 1974. To date, no concurrent resolution of disapproval under section 36(b) has been adopted, and the constitutional question has not been raised directly. Although I am accepting H.R. 13680 with this provision included, I reserve my position on its constitutionality if the provision should ever become operative. In my message of May 7, I expressed my serious concern that the termination of military assistance and military assistance advisory groups after fiscal year 1977 would result in a serious impact upon our relations with other nations whose security is important to our own security and who are not yet able to bear the entire burden of their defense requirements. That concern remains. H.R. 13680 retains language recognizing that it may be necessary and desirable to maintain military assistance programs and military assistance advisory groups in specific countries even after September 30, 1977. Accordingly, this bill will not deter the executive branch from seeking at the appropriate time the necessary authority for the continuation of such programs as the national interest of the United States may require.
H.R. 13680 will require that many changes be made in present practices and policies regarding the implementation of security assistance programs. Some of these new requirements I welcome as distinct improvements over existing law. There are others for which the desirability and need is less clear. Nevertheless, I shall endeavor to carry out the provisions of this bill in a manner which will give effect to the intent of the Congress in enacting them. As time goes by and experience is gained, both the executive and the Congress will come to know which of the provisions of this bill will be effective and workable, and which others require modification or repeal.
This bill recognizes that security assistance has been and remains a most important instrument of United States foreign policy. My approval of H.R. 13680 will enable us to go forward with important programs in the Middle East, in Africa, and elsewhere in the world aimed at achieving our goal of international peace and stability.
Note: As enacted, H.R. 13680, approved June 30, 1976, is Public Law 94-329 (90 Stat. 729).
Gerald R. Ford, Statement on Signing the International Security Assistance and Arms Export Control Act of 1976. Online by Gerhard Peters and John T. Woolley, The American Presidency Project https://www.presidency.ucsb.edu/node/257727