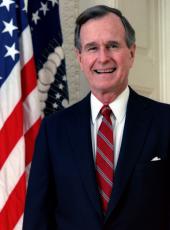 Statement on Signing the Intelligence Authorization Act, Fiscal Year 1991
Today I have signed H.R. 1455, the "Intelligence Authorization Act, Fiscal Year 1991."
I am pleased that the Congress has eliminated the most serious problems identified in my Memorandum of Disapproval of November 30, 1990, regarding its predecessor, S.2834 (101st Congress). In particular, I am pleased that the Act, as revised, omits any suggestion that a "request" by the United States Government to third parties may constitute "covert action" as defined by the Act. In addition, I am pleased that the revised provision concerning "timely" notice to the Congress of covert actions incorporates without substantive change the requirement found in existing law. I reiterate my intention to proceed in this area as outlined in my letters to Senators Boren and Cohen of October 30, 1989; I am glad that the Congress has accepted that statement of intention and, in the spirit of comity in which it was offered, has not added any restrictions beyond those that the executive and legislative branches have agreed are found in existing law.
I remain concerned about legislatively directed policy determinations in the Act and provisions that are without effect because they are unconstitutional under the Supreme Court decision in INS v. Chadha, 462 U.S. 919 (1983). I reiterate that the inclusion of such provisions is inappropriate.
Several provisions in the Act requiring the disclosure of certain information to the Congress raise constitutional concerns. These provisions cannot be construed to detract from the President's constitutional authority to withhold information the disclosure of which could significantly impair foreign relations, the national security, the deliberative processes of the Executive, or the performance of the Executive's constitutional duties.
I believe that the Act's definition of "covert action" is unnecessary. In determining whether particular military activities constitute covert actions, I shall continue to bear in mind the historic missions of the Armed Forces to protect the United States and its interests, influence foreign capabilities and intentions, and conduct activities preparatory to the execution of operations.
I am confident that this Act will lay to rest disputes that in the past have arisen between some Members of Congress and the executive branch, and I look forward to continued cooperation with the Intelligence Committees.
George Bush
The White House,
August 14, 1991.
Note: H.R. 1455, approved August 14, was assigned Public Law No. 102 - 88. The statement was released by the Office of the Press Secretary on August 15.
George Bush, Statement on Signing the Intelligence Authorization Act, Fiscal Year 1991 Online by Gerhard Peters and John T. Woolley, The American Presidency Project https://www.presidency.ucsb.edu/node/265852